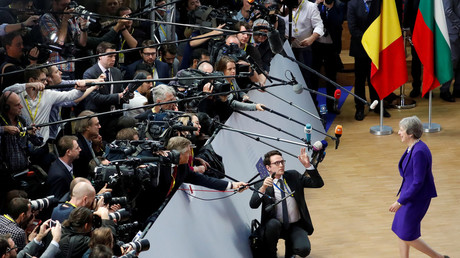 Fuming Tory MPs have reacted angrily to Prime Minister Theresa May's admission that the UK could stay under EU rules "months" after Brexit – with some even telling her she needs to quit as leader over her handling of negotiations.
On Thursday morning, May faced reporters after a night of discussions in Brussels with her fellow 27 EU leaders that were intended to try and break the current impasse on Brexit negotiations.
READ MORE: Italexit looming? Majority of Italians would vote to leave EU as immigration tops agenda
She revealed one option that had emerged from last night's talks was an extension of the "implementation [or transition] period for a matter of months," in an effort to break the deadlock over the Irish border issue. The prospect of Brexit being further delayed, with a transition period running into 2021, and with it, potentially further UK payments of £15 billion going into the EU coffers, has infuriated Tory MPs.
What will alarm the PM is that it's now not just hardline Brexiteers questioning her leadership. Tory Remainer Nick Boles, a former minister for skills under David Cameron, has blasted May's "humiliating" concessions and claimed Conservative colleagues from across the Brexit spectrum are "close to despair."
He told BBC Radio 4 Today: "I'm afraid she's losing the confidence now of colleagues of all shades of opinion." Boles added: "They are close to despair at the state of this negotiation," suggesting the PM is complicit in running the clock down for a 'No deal' Brexit scenario.
"That is not an acceptable way for a leader of a government to behave."
READ MORE: UK is trying to keep EU on a short leash despite Brexit – Lavrov
Backbench Tory MP Nadine Dorries, suggested the only way forward for the country now was for May to quit and allow David Davis, the former brexit secretary, to become the interim leader and take over negotiations. She's found supporters to the idea of replacing the PM from Talkradio presenter Julia Hartley-Brewer and Tim Montgomerie, a prominent grassroots Conservative blogger.
Another vocal Tory Brexiteer, Andrea Jenkyns, MP for Morley and Outwood, told ITV's Peston on Sunday: "Back in July, myself and 36 colleagues signed a letter to the prime minister setting out our red lines — and that was one of them. It's completely ridiculous."
It comes as six Tory Brexiteer heavyweights write an open letter to Theresa May urging her not to surrender to the EU's demands, otherwise she and her government will never be forgiven by the British people, The Telegraph report.
READ MORE: Knives out for ex-Tory PM John Major after he rips into Boris & fellow Brexiteers
In their lengthy letter to the PM, outlining their misgivings about the current direction of travel of negotiations; Boris Johnson, David Davis, Jacob Rees Mogg, Iain Duncan Smith, Owen Paterson and Priti Patel tell May: "We urge you not to engage in a show of resistance and a choreographed argument followed by surrender and collapse into some version of the backstop and Chequers."
They conclude by issuing a warning to the embattled PM, saying if any "potential gains are sacrificed because of EU bullying and the Government's desperation to secure a deal, the British people will not forgive us."
Think your friends would be interested? Share this story!
Subscribe to RT newsletter to get stories the mainstream media won't tell you.
Via RT. This piece was reprinted by RINF Alternative News with permission or license.