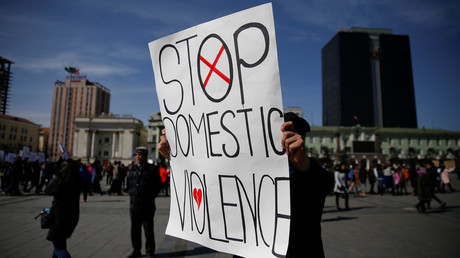 A man in California is facing child abuse charges for using his 18-month-old son as a weapon to fend off his girlfriend during a skirmish. In the CCTV clip, the man is seen swinging the child around and dropping him on the ground.
A domestic brawl at Riverwalk Montecito Estates has led the District Attorney office to file charges against the 27-year-old Techhoak Danny Lim, who used his own son to chase his girlfriend away. The video of the incident captured by the neighbor shows an Asian woman as Lim walks into a frame holding a child – and dropping him. Clearly upset over something, Lim picks up the toddler as the couple continues to engage in their dispute.
Minutes later, the camera captures Kim wielding the child like a weapon, swinging the poor kid around. In the heat of the moment, the toddler is once again thrown to the ground. As the girlfriend runs off, Kim takes off in the opposite direction, closely followed by the kid on his feet, the video of the incident which happened last Thursday reveals.
"The video shows him hitting her with the baby like a baseball bat," Riverside police Detective Jerilynn Czobakowski told reporters.
Anti-child-abuse activist & former Nobel Peace Prize nominee arrested for planning sex with 2yo
Police arrested the man five hours after the incident before releasing him on $50,000 bail the next day. The child suffered cuts, bruises and bleeding to an earbud. After receiving the medical treatment he was placed in the custody of his mother. Lim meanwhile faces charges of child endangerment and domestic violence. The 27-year-old is due to appear in court on September 7.
Think your friends would be interested? Share this story!
Via RT. This piece was reprinted by RINF Alternative News with permission or license.