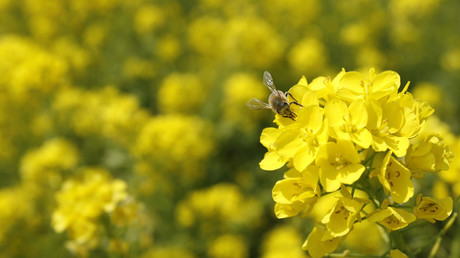 Neonicotinoid insecticides used on oilseed rape crops are harming wild bees and responsible for a large-scale and long-term decline of their population, say British scientists who have been observing wild bees in English countryside for some 18 years.
Wild bees are vulnerable to neonicotinoids, a class of neuro-active insecticides chemically similar to nicotine, the research, led by the Centre for Ecology & Hydrology (CEH) in the UK, says. Neonicotinoids are absorbed by the plant, thus making it toxic for insects.
The scientists have been examining changes in 62 species of wild bees between 1994 and 2011 which, according to the study is the time period "spanning the introduction of wide-scale commercial use of neonicotinoids."
READ MORE: Common pesticide could hinder bumblebees' ability to pollinate plants – study
"The scientists found evidence suggesting that neonicotinoid use is linked to large-scale and long-term decline in wild bee species distributions and communities," says a statement from CEH press release.
It turns out that the decline in the wild bee population was "three times stronger" among those species that regularly feed on oilseed rape crop. Also "oilseed rape is a principle mechanism of neonicotinoid exposure among wild bee communities," the study said.
The researchers concluded that neonicotinoid use "is correlated with wild bee biodiversity losses at a national scale."
READ MORE: Bee genocide: Nearly half of US honey hives collapsed in past 12 months
"As a flowering crop, oilseed rape is beneficial for pollinating insects. This benefit however, appears to be more than nullified by the effect of neonicotinoid seed treatment on a range of wild bee species," lead author Dr. Ben Woodcock said.
The study was hailed by environmental campaigners for providing one of the strongest pieces of evidence of the harmful effects of neonicotinoids on bees.
"With this dramatic evidence, it looks like case closed on neonics and bees. We must now be reassured that UK and EU regulators will ensure that all future pesticides are bee safe and that the severe harm neonics are causing to freshwater ecosystems is also resolved," Matt Shardlow, chief executive of the charity Buglife, told the Guardian. 
The research "adds a huge new peak to the existing mountain of evidence showing the risk these chemicals pose to our bees," Friends of the Earth campaigner Paul de Zylva added.
Users on social media also criticized the harmful effects of pesticides on bees.
"I wonder how much more evidence is needed for NFU [National Farmers Union in England and Wales] to take this on board?" @B_Strawbridge wrote in a tweet to CEH.
This is not the first research that blames neonicotinoids for harmful environment impacts. In November 2015 a study by UK scientists found that after exposure to neonicotinoids, bumblebees faced hindered pollination abilities – they visited fewer flowers and returned with less pollen.
The scientists proved that neonicotinoids impact the nervous and immune systems of bees, leaving them open to disease. In 2013 the European Union imposed a two-year moratorium on some types of the chemical, and it is scheduled to be reviewed in 2016. In 2015 Canadian city of Montreal banned all neonicotinoids without exception.
Via RT. This piece was reprinted by RINF Alternative News with permission or license.