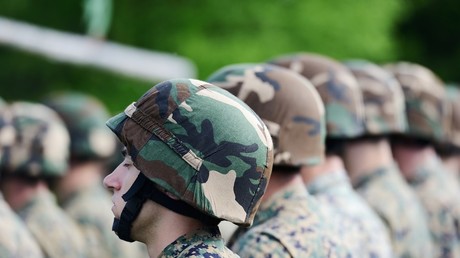 A sex toy, stuck to the roof of a British Army building, proved to be much harder (so to speak) to remove than expected.
The sexual device was glued to the top of the regimental headquarters of the King's Royal Hussars, a cavalry regiment, and initially it looked like it was there to stay.
Somebody has glued a sex toy to the top of the KRH Regimental Headquarters.

Apparently it's going to take 40 days to remove as it's "not a priority job" in the view of estate management. pic.twitter.com/JwtNhA8914

— Nick Waters (@N_Waters89) July 25, 2018
The managers of the building said removing the device was "not a priority job", according to ex-infantry officer and journalist Nick Waters who posted the footage, and claimed it could take up to 40 days before it reached the top of the to-do list.
READ MORE: 'You can hack a dildo, so we must act': Labour MP demands sex toy regulation
Some soldiers decided to take matters into their own hands and fashioned a rather long poking device in an attempt to prod it down themselves – in actuality they just flicked it a bit, much to the delight of the giggling group of onlookers.
Someone finally came to remove the dildo from the regiment HQ and I've been sent a video with the titanic theme dubbed over the top and I am finding this far too funny 'don't forget the base!' pic.twitter.com/6OK7O9YV5u

— Felicity Morse (@FelicityMorse) July 25, 2018
It appears management rethought the PR repercussions of leaving a sex toy on top of an army building for weeks, and they removed the phallic device with the help of a crane and some elbow grease on Wednesday.
Think your friends would be interested? Share this story!
Via RT. This piece was reprinted by RINF Alternative News with permission or license.