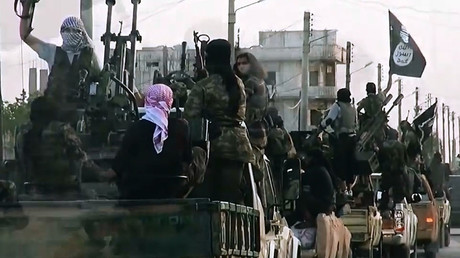 New documents reveal how a combined Foreign Office and military unit fights Islamic State (IS, formerly ISIS/ISIL) propaganda with 'strategic communications' of its own.
Accessed by the Guardian, the documents show how contractors guided by the Ministry of Defence (MoD) create pamphlets, broadcasts, reports and social media, and run a "press office" in support of the so-called moderate armed opposition (MAO) resisting IS.
While the MAO is a controversial and ever-shifting alliance of factions, many of them violent jihadists, the UK appears committed to buttressing their activities as a counterweight to IS.
Government policy views information as "so prevalent, potent and unavoidable that it forms as much a part of the strategic environment as the terrain or weather" and aims to shape it through "strategic communications" – PR long-hand for propaganda.
Critically, the government appears to be using propaganda as a way to soften up the terrain until troops can be deployed, referring to "the capability to expand back into the strategic space as and when the opportunity arises."
The government also seems to be utilizing a humanitarian-style NGO organization called the Conflict and Stability Fund, made up of contractors based in Istanbul, to project its own narrative and influence the information terrain.
The contractor's aim is to forge a sense of Syrian national identity which at once promotes the "the moderate values of the revolution" and is capable of making Syrians reject both IS and the Assad regime.
The documents obtained by the Guardian discuss the importance of finding and coaching prominent MAO personnel as spokesmen as part of what one UK source claimed is a "Free Syrian Army press office."
The material appears to flag as "moderate" the allegedly Saudi-backed group Jaysh al-Islam. Six months before the document was written in 2014, the NGO Human Rights Watch reported that Jaysh al-Islam had been responsible for the kidnap and alleged murder of four political activists in Syria.
In a glossily-produced video released in June 2015, Jaysh al-Islam executed 18 IS fighters – a war crime under the Geneva Convention.
An MoD spokesperson told the Guardian that Jaysh al-Islam had "never been given any assistance by the MoD, FCO [Foreign Office] or any contractors working on HMG's [Her Majesty's government] behalf."
"All recipients of our assistance are rigorously assessed to ensure they are not involved in any extremist activity or human rights abuses," she added.
Via RT. This piece was reprinted by RINF Alternative News with permission or license.