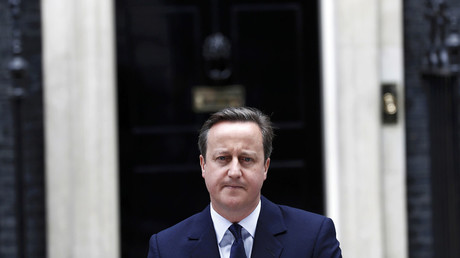 Britain has voted to 'Leave' the EU. Questions now hang over Prime Minister David Cameron's job and what impact this could have on the unity of the United Kingdom itself.
For Cameron, there are already murmurs he will be forced to resign.
According to reports, Cameron, as well as Chancellor of the Exchequer George Osborne, will be given a "dignified exit," despite over 80 Conservative MPs earlier signing a letter saying Cameron should stay on, regardless of the result.
While a resignation may be forthcoming on Friday, senior Tories have indicated it would not be immediate.
Am being told that Cameron and Osborne are finished. There will be a "dignified exit" say senior Tories. "Not immediate".

— Allegra Stratton (@ITVAllegra) June 24, 2016
So who would take Cameron's job? There are already suggestions the next resident of 10 Downing Street could be former London Mayor Boris Johnson, who campaigned for a 'Leave' vote.
It's reported that negotiations may already be underway to coordinate Cameron's exit and the installation of Johnson and Michael Gove into the seats of power.
One source tells me Gove and Boris negotiating the terms of Cameron's departure – only one source

— Laura Kuenssberg (@bbclaurak) June 24, 2016
Questions also hang over what comes next for the nations that make up the United Kingdom that voted to 'Remain.'
Voters in both Scotland and Northern Ireland voted to 'Remain,' unlike Wales and England.
In Scotland, First Minister Nicola Sturgeon issued a statement in which she indicated her country had "spoken decisively" in favor of remaining in the EU, which is obviously in sharp contrast to the UK-wide vote.
It had been suggested that if 'Leave' won, Scotland could push for a second independence referendum to leave the United Kingdom and seek EU membership for itself.
Scotland's former First Minister Alex Salmond said in May that such a vote would probably occur "within two years."
Wales: Leave
England: Leave
Scotland: Remain
Northern Ireland: Remain
What now for "United Kingdom"? #EUref

— Ben Riley-Smith (@benrileysmith) June 24, 2016
In Northern Ireland, Sinn Fein, which had been pushing for the UK to stay in the EU, has indicated Northern Ireland's position in the UK is undoubtedly under question.
"[The] British government has forfeited any mandate to represent economic or political interests of people in N Ireland," Sinn Fein said in a statement.
BREAKING: Sinn Fein says "British government has forfeited any mandate to represent economic or political interests of people in N Ireland"

— Marc Mallett (@MarcMallett_UTV) June 24, 2016
The party is expected to call for a border poll in light of the referendum result, which formed part of the Good Friday Agreement that brought an end to 'The Troubles' in Northern Ireland.
Sinn Fein's Martin McGuinness, deputy First Minister of Northern Ireland, is also reportedly keen on such a referendum sooner rather than later.
Martin McGuinness deputy FM Northern Ireland Assembly, now calling for referendum under Good Friday Agreement. #euref

— Iain Macwhirter (@iainmacwhirter) June 24, 2016
Via RT. This piece was reprinted by RINF Alternative News with permission or license.