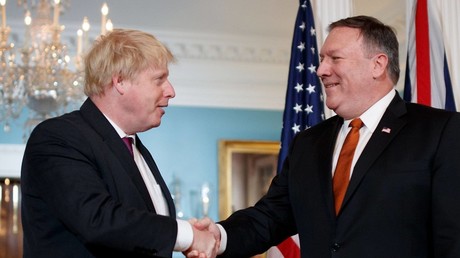 UK Foreign Secretary Boris Johnson has fallen short of outright condemning US President Donald Trump over what has been branded the "reckless" decision to withdraw from the Iranian nuclear deal.
Speaking after PMQs, the Foreign Secretary said Britain did the "utmost" in attempting to persuade the Republican leader to stick with the deal, which he said is "vital to national security and stability of the Middle East." He added the UK would "not walk away" from the internationally-backed agreement.
Shadow Foreign Secretary Emily Thornberry intervened to blast Trump's "reckless, senseless, immoral act of diplomatic sabotage." She accused the US President of withdrawing without "without a single care, the slightest justification or simplest rational thought of what will come next."
Johnson hit back saying, to be fair to the US administration, "they have decided that there is another way forward", which is just different from the UK's view.
He went on to say it now "falls to the US administration" to put forward "concrete proposals" to address the nuclear threat posed by Iran.
Johnson also failed to give details to the Commons over how the withdrawal would affect the UK's economy. When MPs warned that the UK would be hit by higher oil prices because of the latest move, Johnson merely said the Government would protect the interest of UK businesses.
Johnson gave yet another non-committal answer to Labour's Kevin Brennan when asked whether British firms would be hit by US sanctions for carrying on trading with Iran.
The Foreign Secretary's responded: "We will do our utmost to protect UK commercial interests."
While the leaders of France and Germany visited Trump in person to persuade him on the matter, Theresa May permitted Johnson to take a last minute trip to Washington in her stead.
READ MORE: Will he pull out? Boris takes to FOX News to persuade Trump to stay in Iran Nuclear Deal (VIDEO)
During his trip Johnson, unlike the French and German leaders, did not get access to Trump and instead met with the new Secretary of State Mike Pompeo.
In an unorthodox bid to sway Trump, Johnson appeared on the President's favorite news channel, Fox News, saying: "If they do get a nuclear weapon, you're going to get an arms race in the Middle East."
Johnson added: "You're going to have the Saudis wanting one, the Egyptians wanting one, the Emiratis. It's already a very, very dangerous state at the moment, we don't want to go down that road. There doesn't seem to me at the moment to be a viable military solution."
If you like this story, share it with a friend!
Via RT. This piece was reprinted by RINF Alternative News with permission or license.