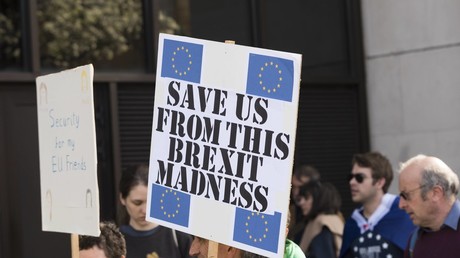 Boris Johnson's landmark Valentine's Day Brexit speech has been widely derided by the Twitterati. Despite the foreign secretary seeking to reconcile with Remainers, his speech was dismissed for his perceived "double standards."
Johnson attempted to paint an optimistic future for Brexit Britain, talking up the supposed economic benefits while dismissing the idea of holding a second referendum on the final EU-UK deal.
Labour MP David Lammy branded the speech a "waste of time," while cautioning against having a person such as Johnson in government.
Labour MP Peter Kyle weighed in, posting: "This speech from Boris Johnson is indistinguishable from his before the referendum: a bland and generic wishlist, grotesquely exaggerated assertions, all predicated on nationalist sentiment and colonial sentimentality. Backward-looking clap-trap."
The one-time Tory leadership hopeful stirred further outcry when he suggested people in the UK are clueless about the internal workings of the EU.
Acclaimed left-wing journalist Paul Mason turned Johnson's comments back on the foreign secretary.
During his speech, the Tory MP stated once again that the UK should not go through another EU referendum.
"[…] if there were to be a second vote I believe that we would simply have another year of wrangling and turmoil and feuding in which the whole country would lose," Johnson said.
This prompted the response of renowned actor and writer David Schneider, who tweeted:
Johnson also singled out the economic situation of a post-Brexit Britain as one of the main concerns of the public.
He sought to quell any worries by saying that the UK will have more money to spend once it effectively withdraws from the bloc in 2019.
New Statesman political editor George Easton hastily countered the statement, writing:
Meanwhile, Huffington Post political editor Owen Bennett pointed out what he saw as the hypocrisy of Britain's foreign secretary:
Labour MP Chuka Umunna was baffled by Johnson's "double standards":
Fellow Labour MP Yvette Cooper chimed in, saying: "Waffly, bumbling, empty speech. With 13 months to go we need practical answers & details from Govt, not just Boris Johnson bluster. Confirms my view – why on earth is anyone still taking this man seriously?"
If you like this story, share it with a friend!
Via RT. This piece was reprinted by RINF Alternative News with permission or license.