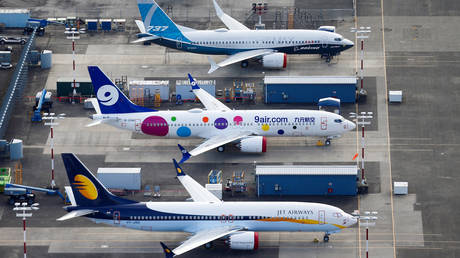 In an effort to mitigate the fallout of the Boeing 737 MAX scandal, the company says it's created a committee to review "company-wide policies" and processes. It also cut the production rate of the troubled jet to 42 per month.
The Boeing corporation is working closely with its customers and regulators to get the ill-fated 737 MAX 8 back in action, the company's CEO Dennis Muilenburg said in a statement on Friday.
Amid the unfolding investigations into two deadly crashes and into the greenlighting of a faulty flight system by the FAA, Boeing continues to "be driven by our enduring values, with a focus on safety, integrity and quality in all we do," the company has assured the public.



Also on rt.com
'Sorry for lives lost': Boeing admits faulty system part of 'chain of events' in 737 MAX crashes




Boeing is working on a software upgrade for the maneuvering system MCAS, as well as training courses for 737 MAX pilots. Such measures are designed to prevent Indonesia- and Ethiopia-like crashes "from ether happening again," the company said. It described the fatal crashes –which killed over 300 in total– as "accidents [that] were caused by a chain of events, with a common chain link being erroneous activation of the aircraft's MCAS function."
Since the 737 MAX planes remain grounded worldwide and deliveries of new aircraft have been halted, the company has slashed production rate of the plane model from 52 to 42 airplanes.
Muilenburg has also announced that he has asked Boeing's board to set up a committee to "review our company-wide policies and processes for the design and development of the airplanes we build," for which it is expected to "recommend improvements."



Also on rt.com
Sales before safety? Boeing MAX affair exposes US corporate sector, as company braces for fallout




"Safety is our responsibility, and we own it. When the MAX returns to the skies, we've promised our airline customers and their passengers and crews that it will be as safe as any airplane ever to fly," Muilenburg said.
Think your friends would be interested? Share this story! 
Via RT. This piece was reprinted by RINF Alternative News with permission or license.