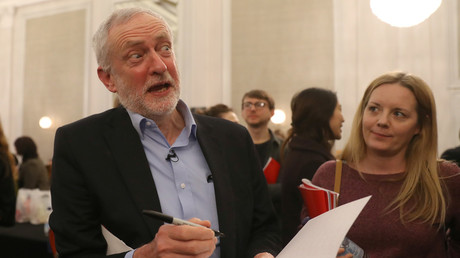 The internet isn't taking espionage allegations against Jeremy Corbyn lying down. Many Twitterati have jumped to Jezza's defense, using the hashtag #CorbynSmear with 'stories' of their own, aping a Murdoch paper's front page.
According to the Sun, Corbyn was passing information to communist Czechoslovakian agents in the 80s. Former Czechoslovak spy Jan Sarkocy (or Dymic) claims the now-Labour leader — and at least 15 other Labour figures — passed information on to the Soviet Union.
Labour sources have vehemently denied the allegations, stating that the claims were "entirely false" and insisting Sarkocy/Dymic has "no credibility at all."
A representative for Corbyn called the story a "smear," adding: "Like other MPs, Jeremy has met diplomats from many countries. In the 1980s he met a Czech diplomat, who did not go by the name of Jan Dymic, for a cup of tea in the House of Commons.
"Jeremy neither had nor offered any privileged information to this or any other diplomat."
From the Sun's Le Carré esque 'Corbyn and the Czech spy' story – the chat with him "could not be utilised" cos it was limited to general politics.
So.. Corbyn met someone who he says he didn't know was a spy (kind of the point), and didn't divulge useful info. Fun read, but..hmm. pic.twitter.com/Z5nT3N0kvh

— Dan Bloom (@danbloom1) February 15, 2018
Some are questioning the Sun's 'expose' – just because he met with a seeming diplomat does not mean he was colluding with spies… perhaps the story was in need of a fact Czech.
However, this is not the first time Corbyn has faced some far-fetched accusations — here's the latest (and best) rumors swirling about the Labour leader.
Corbyn and the 'war criminal' 
Here we can see Corbyn photographed with a "war criminal"… aka former Labour Prime Minister Tony Blair.
Blair has been accused of inciting war crimes for triggering the UK's involvement in the Iraq war, deliberately using bogus intel to rush into combat. According to a YouGov poll in August 2017, 33 percent of respondents said the former Labour leader "knowingly misled Parliament and the public" and should therefore be prosecuted as a "war criminal."
Corbyn and the weather 
According to Meteorologist and Chief Scientist of Weather.us Ryan Maue, there's a storm a-brewin'.
"Next 2 weeks will see brutal winter conditions across much of Europe," Maue reports.
"Cold temperatures and snowfall along the Mediterranean as strong easterly flow from Russian Arctic arrives… blame -NAO, the stratosphere #PolarVortex split, and the calendar."
Maue forgot one more to point the finger at though… Jeremy Corbyn. Luckily, Twitter user Neil Russell was there to correct him.
Corbyn and the body thief
Not only will he ruin the weather, divulge your private information on what you had for breakfast, lunch, dinner and tomorrow's planned outfit (no, really: Apparently this was the information Corbyn was feeding to Russia about Margaret Thatcher during his time as a backbencher in the 80s). On top of that, now Jeremy Corbyn will swipe your sweet physique.
In a picture to rival that of ex-Australian Prime Minister Tony Abbott's actual body (see above), Corbyn's head appears to have been photoshopped onto the body of some babe. We aren't complaining.
Corbyn and the hamster 
Not a recent accusation, but definitely a weird one that deserves mention. According to (satirical) news site Daily Squat in 2015, good old Corbs got a little peckish at one of Tony Blair's dinner parties and ate Tony Blair's hamster.
Now the story has come back to life, with a fake front page of the Sun circulating on Twitter.
Corbyn and the cannabis
Stop the presses people — not only will he steal your body and tell the Russians all about it, now Labour leader Jeremy Corbyn is also a drug addict. This probably explains why he's been up to so many kooky shenanigans lately.
Admittedly, this one may not have stemmed from the allegations made against Corbyn — but it was too good not to include. Seems like #CorbynSmear is here to stay.
Think your friends would be interested? Share this story!
Via RT. This piece was reprinted by RINF Alternative News with permission or license.