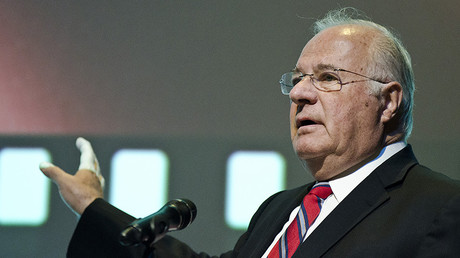 Two of New York City's top digital news outlets have been shuttered just days after reporters and editors voted to join a union. Roughly 115 journalists were laid off, and all of their online articles disappeared without warning.
At 5:00pm Thursday, the sites that hosted the Gothamist and DNAinfo began redirecting readers to a statement written by Joe Ricketts, the billionaire founder of TD Ameritrade, who owned the news outlets.
Ricketts said his decision to discontinue publishing the outlets, which "impacted and inspired" over 9 million people a month, was "difficult." He said it was purely a business decision.
"But DNAinfo is, at the end of the day, a business, and businesses need to be economically successful if they are to endure," Ricketts said. "And while we made important progress toward building DNAinfo into a successful business, in the end, that progress hasn't been sufficient to support the tremendous effort and expense needed to produce the type of journalism on which the company was founded."
Less than a week before the outlets were shut down, the staff at the New York offices of DNAinfo and the Gothamist voted to join the Writer's Guild of America East. DNAinfo said that joining the union was a factor that led to all outlets being shut down across the country.
"The decision by the editorial team to unionize is simply another competitive obstacle making it harder for the business to be financially successful," a DNAinfo spokesperson told the New York Times.
In September, Ricketts wrote a blog entitled, "Why I'm Against Unions At Businesses I Create," in which he said unions "tend to destroy the Free Enterprise system."
"I believe unions promote a corrosive us-against-them dynamic that destroys the esprit de corps businesses need to succeed," Ricketts wrote.
In response, the Writer's Guild said that they will be looking into all "potential areas of recourse," and will meet with the management in order to "aggressively pursue" the rights of their new members.
"It is no secret that threats were made to these workers during the organizing drive," the union said in a statement.
With the shutdown, 115 journalists have been laid off, including those who worked at the sister sites in Chicago, Los Angeles, San Francisco and Washington operations, who did not vote to unionize.
The staff at each outlet were given three months of paid "administrative leave" at full salary and four weeks of severance. They were also told that during that time, they must be available "to answer questions and assist in this transition," but did not have to come into the office unless otherwise instructed.
The unannounced closure came as a surprise to many of the journalists who worked at both outlets, with one editor saying he learned about being laid off on his way back from the bathroom.
After the shutdown, many journalists were shocked to discover they could no longer access the articles they had written over the years.  
I have bled, sweat, cried, put myself in harm's way for this job, and now the last two years of my live have been erased

— Noah Hurowitz (@NoahHurowitz) November 2, 2017
Scott Heins, a Gothamist reporter, said he had "zero regrets" about their choice to unionize, and took the opportunity to encourage others to start the process sooner rather than later.
"The lesson behind this is organize your workplace IMMEDIATELY. Not soon. Now. You never know when a conservative billionaire might buy you," Heins tweeted.
The lesson behind this is organize your workplace IMMEDIATELY. Not soon. Now. You never know when a conservative billionaire might buy you

— Scott Heins (@scottheins) November 2, 2017
Via RT. This piece was reprinted by RINF Alternative News with permission or license.