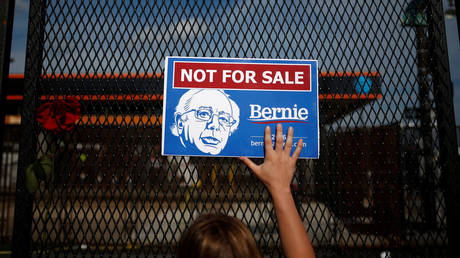 A day after Julian Assange was arrested, Democratic presidential hopeful Bernie Sanders took the time to post a video… about himself. Fans quickly flooded the comments, demanding that Sanders take a stand for Assange.
While the video Sanders tweeted on Thursday made the case for his long-established progressive record on civil rights issues, a large number of commenters responded that they were more interested in seeing what Bernie is willing to do today to protect people's rights, calling out his silence on Assange's arrest and its implications for freedom of the press.
Bernie, TALK about Assange already.

— Michel Drolet-Gravel (@Xnerdz) April 12, 2019
WikiLeaks co-founder Julian Assange was dragged out of the Ecuadorian Embassy in London by British police on Thursday, and faces jail time in the UK, extradition to the US, and possible charges in Sweden. He was found guilty of failing to surrender to bail, but was also arrested on an extradition order from the US.
Many among the supporters and critics tweeting at Sanders to demand a comment are suggesting that a candidate running for president of the US owes it to his constituents to tell them where he stands on a hot-button issue with direct implications for the First Amendment.
Where are you on Julian Assange? Come clean Bernie, we have a right to know where you stand on freedom of the press. I cannot support a candidate that chooses to be complicit in the dismantling of our first amendment.

— K!LLA CAM 🌺 (@killa_cam214) April 12, 2019
While it may be politically dangerous to offer support for a figure as maligned as Assange, Bernie's own video tries to show that he is all about doing the right thing despite the potential pushback. It even highlights how Sanders himself had been arrested while fighting social injustice.
If Sanders does end up making some kind of statement, he would not be alone – even among his party's presidential candidates. Joining the ACLU, political leaders like Jeremy Corbyn and Evo Morales, and numerous others, at least one front-running Democrat, Tulsi Gabbard, has already spoken out about the potentially dangerous consequences of the arrest.
Like this story? Share it with a friend!
Via RT. This piece was reprinted by RINF Alternative News with permission or license.