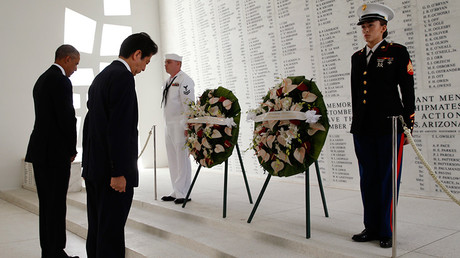 Japanese Prime Minister Shinzo Abe met with President Barack Obama at the USS Arizona Memorial in Pearl Harbor to offer "sincere and everlasting condolences" for the victims of the surprise attack 75 years ago.
Tuesday's visit marks the first time a Japanese leader has made a visit to the memorial, which is built over the sunken USS Arizona battleship.
Abe and Obama took part in a wreath-laying ceremony, with "In Remembrance, Shinzo Abe, Prime Minister of Japan" written on one wreath and "In Remembrance, Barack Obama, President of the United States" on the other.
Abe did not apologize directly for the attack, however, instead referring to his visit as a "symbol of reconciliation."
The December 1941 attack on Pearl Harbor, famously known as the "day that will live in infamy," killed or wounded over 3,500 Americans and sank or damaged all eight battleships stationed at the base. It was a major factor in the US officially joining the Allies in the second World War.
Before the meeting, the White House released a statement saying, "The two leaders' visit will showcase the power of reconciliation that has turned former adversaries into the closest of allies, united by common interests and shared values."
The US still has also been renegotiating land that was used for military bases to Japan, including over 10,000 acres in Okinawa, which the US government has controlled since World War II.
"As far as the US government is concerned, they're trying to maintain their huge military presence in Okinawa," Steve Rabson, professor emeritus of East Asian Studies at Brown University, tells RT. "This is what's going on behind the scenes of the Hawaii visit."
The visit comes just seven months after Obama was the first sitting president to visit Hiroshima, the site where the US dropped the first atomic bomb in 1945, which completely destroyed the city and caused over 140,000 deaths by the end of 1945. 
During his visit, Obama did not apologize for the attacks on Hiroshima or Nagasaki, rather he called for an end to nuclear proliferation. "Among those nations like my own that hold nuclear stockpiles, we must have the courage to escape the logic of fear and pursue a world without them," Obama said in his speech, according to a transcript from the White House.
After his visit to Hiroshima, Prime Minister Abe told journalists in a press conference that Obama's message on non-proliferation would be "engraved in the heart of the Japanese people," according to reports from CNN.
"Ours is an alliance of hope that will lead us to the future," Abe told veterans at the Pearl Harbor memorial, according to the transcript, reported the New York Times. "What has bonded us together is the power of reconciliation, made possible through the spirit of tolerance."
Via RT. This piece was reprinted by RINF Alternative News with permission or license.