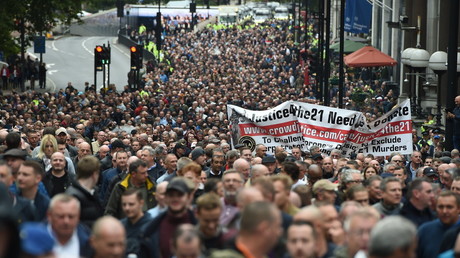 Protest movement The Football Lads Association (FLA) purports to be a 'non-fascist' group that is against extremism on the left and right. A new RT documentary by George Galloway has questioned the validity of the group's claim.
The FLA, the group known for organizing marches against Islamist extremism, is far from being "non-violent", a Stand Up To Racism organizer claims, in former Labour MP George Galloway's new documentary 'The Patriot Game'.
Paul Sillett told Galloway: "They say they are just football lads, well come one, they are formed by a football hooligan."
READ MORE: Nazi pug case causes freedom of speech row in parliament
Referring to one of the group's marches, where there were reports of racial abuse, Sillett said: "They are taking great pains to say they are anti-racist and so on, but how come there wasn't a Muslim speaker on the platform? The truth is, a lot of people following the FLA hate Islam, not just Islamist terror, as they call it, they hate Islam. For a supposedly anti-extreme group that's against terror, you've got people who are linked to terror acts, you've got people who are known racists and fascists," Sillett pointed out.
The FLA's founder John Meighan, argued that they "really promoted the non-racism approach, the non-violent approach – it's all about peaceful protest."
The group has repeatedly been associated with far-right figures, including English Defence League (EDL) founder Tommy Robinson; Galloway argues that both the FLA and the EDL are just the "latest heirs to Mosley's black shirts."
The documentary comes after it emerged that the FLA uses a secret Facebook page full of racist, misogynist and violent posts. The 65,000-strong Facebook page, seen by the Observer, included posts targeted against London Mayor Sadiq Khan and Shadow Home Secretary Diane Abbott. The page claims FLA members are "not fascist thugs" but posts included calls for Khan to be "hanged" and Abbott to be "run over."
If you like this story, share it with a friend!
Via RT. This piece was reprinted by RINF Alternative News with permission or license.