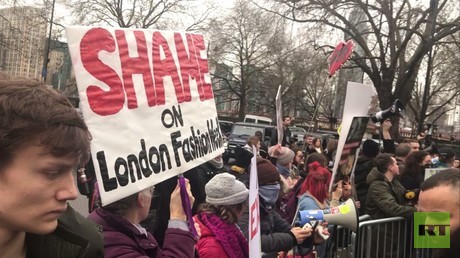 Anti-fur campaigners have caused a stir at London Fashion Week, protesting designer Christopher Kane's show. Kane is well known for using fur, most recently releasing a range of mink-covered Crocs shoes in 2017.
Animal rights group Surge has harried London Fashion Week (LFW) at every corner, protesting at the Burberry, Mary Katrantzou, and Christopher Kane shows, while also targeting 180 the Strand, the official home of the event.
At the Kane show, held on Monday afternoon at the Tate Britain in Millbank, Surge co-director Ed Winters told RT that the campaign group just wants to sit down with LFW organizers to discuss moving the fashion festival in a more ethical direction.
Winters said Monday's Christopher Kane show had been targeted as the designer is a "prolific" user of fur.
"We're not accusing people of being bad people, we're just trying to raise awareness and show people that in 2018 there is no need for fur.
"We're not cavemen," he added.
While the animal rights group does not throw red paint on fur wearers, Winters said it does try to approach those wearing skins to educate them on the disturbing reality of the fur trade.
"We always try to go and chat to them. So I would go, are you aware that your fur came from an animal that suffered terribly in a fur farm? And it goes one or two ways; they say yes and it gets a bit hairy, or they don't know. I think it is important to give them the benefit of the doubt."
The British Fashion Council (BFC) said that while it does not believe in defining or wielding control over a designer's "creative process," it does "believe in the humane rights of people and animals and would encourage any designer who is using the platform of London Fashion Week to make ethical choices," a BFC spokeswoman said.
"Over 90 percent of LFW designers that were interviewed confirmed they will not be using fur and we understand the remaining to be using bi-products of the food industry such as leather and shearling or ethically traceable sourcing," she added.
While many designers at LFW 2018 may be doing the ethical thing, there are still many that use animal skins in their designs – and as long as that continues, groups like Surge will be there to voice their anger.
"We'd love to sit down (with LFW organizers) and just chat with them, and say 'this is what we want' and see if we can reach some kind of place where everybody's happy," Winters said.
"They definitely know that we're here and they can hear us, and we know that they're not happy with what we're doing… as long as they continue to allow fur we'll continue to protest."
Both London Fashion Week and Christopher Kane have been approached for comment but did not respond by the time of publication.
Think your friends would be interested? Share this story!
Via RT. This piece was reprinted by RINF Alternative News with permission or license.