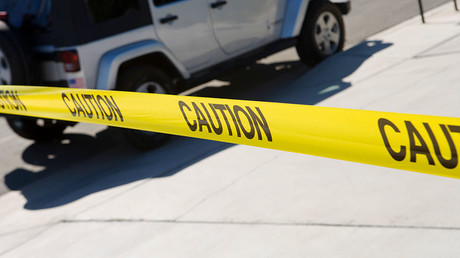 Four people have been killed and there are reports of multiple injuries in a shooting at a Rancho Tehama elementary school in northern California. The attacker is also dead, reportedly killed by police.
Five people have been killed, including the shooter, KNVN-TV reported. Two children are among the injured.
The shooting began "right about 8 am," local time (1600 GMT), according to Assistant Sheriff Phil Johnson. The attack reportedly started at a nearby home before moving to the school.
"I know of at least three deaths," Johnson told KNVN. "I am told at this point the suspected shooter is deceased by law enforcement bullets."
Over 100 law enforcement officers have responded to the scene, the sheriff said. The Enloe Medical Center confirmed to KNVN that three children and one adult were evacuated from the scene. One of them required a medical helicopter. Mercy Dignity Health in nearby Redding confirmed receiving three additional patients.
Truck taped off, windows shot out on Rancho Tehama Road. Two ppl were in it, conditions unknown. Five different crime scenes being investigated, according to Tehama County Sheriff's Office. pic.twitter.com/zvRq8lW5qT

— Cecile Juliette KHSL (@CecileJuliette) November 14, 2017
"I know that we have medevaced a number of students," Johnston said. "I know that the school's been cleared. I know that we have children that were attending school in a safe location at this time."
Police are investigating at least five crime scenes around the town, Johnston said. A "semi-automatic rifle and two handguns" have been recovered by authorities, he added.
A local resident told KNVN his truck had been stolen and his roommate was injured.
"The crazy thing is that the neighbor has been shooting a lot of bullets lately, hundreds of rounds, large magazines," said the man, identified by the Redding Record Searchlight as Brian Flint. "We made it aware that this guy is crazy and he's been threatening us."
Rancho Tehama is a town of 1,500 residents in Tehama County, north of Sacramento.
Via RT. This piece was reprinted by RINF Alternative News with permission or license.