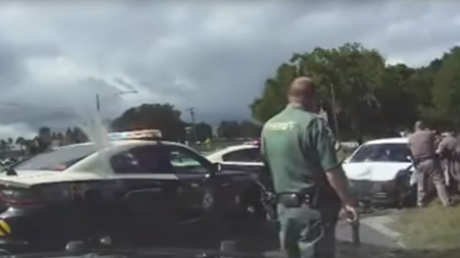 In a tale that gets more bizarre as more details are revealed, three teenage women who were spotted sunbathing nude are in custody in Florida after assaulting a police officer and leading cops on a high speed pursuit.
It all began when a member of the public reported the women after seeing them sunning themselves, completely naked, at a rest stop off interstate 74.
"They're on the northbound side of the building. All three of them are standing in the nude, putting on suntan lotion," the caller said, according to Fox 13.
Florida Highway Patrol revealed in a statement that when a state trooper confronted the teens, they claimed they had recently showered and were "air drying."
As the trooper questioned the teens, they hopped in a vehicle and sped off north on the interstate. The trooper began chasing the teens but quickly stopped because the incident did not fit the highway patrol's "criteria."
That wasn't the end of things though. The teens' reckless driving as they fled the scene prompted another citizen to report them to Florida Highway Patrol. Another trooper then spotted their car driving on the wrong side of the road.
The officer shot a GPS dart at the car, which allowed them to follow it from a distance. When the women stopped at a convenience store, a cop tried to take one of the women into custody only for another one of the trio to "drive directly" at them, forcing them to jump out of the way to avoid being hit. The passenger then hopped out of the car with a metal bat and tried to assault the trooper.
The teens then sped off down the road with the troopers in hot pursuit. Officers from Dade City police assisted the operation by deploying stop sticks, which burst one of the tires of the teens' car.
That spelled the end of the rampage as the troopers rammed the car, sending it spinning out of control before shuddering to a halt.
However, the teens still weren't ready to accept their fate. They refused to exit the car and interlocked their arms together to impede the cops from slapping them in handcuffs. All three were tasered and then taken into custody.
READ MORE: Cop dodges bullet and kills suspect in DRAMATIC gunfight (GRAPHIC VIDEO)
The driver was later identified as 18-year-old Oasis McLeod. The passengers were 19-year-olds Jeniyah McLeod and Cecilia Young. They were arrested on several charges, including aggravated assault and lewd behavior.
Florida Highway Patrol said several troopers had minor injuries, but didn't offer any further details.
Like this story? Share it with a friend!
Via RT. This piece was reprinted by RINF Alternative News with permission or license.