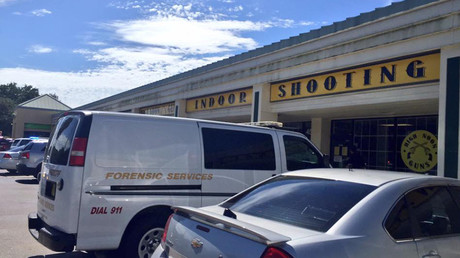 A father shot and killed his 14-year-old son at a shooting range in Florida in a series of events apparently caused by a spent shell casing bouncing off a wall.
The fatal incident happened at High Noon Gun Range, in Saratosa, Florida at around 3:15pm on Sunday.
Stephen who sustained a .22 caliber gunshot to the left jugular, died in Sarasota Memorial Hospital later in the day, according to the Sarasota County Sheriff's Office.
READ MORE: Texas man ambushed & shot en-route to mosque
Currently, no charges are pending against William Brumby, his 64-year-old dad, as authorities continue their investigation. So far, "detectives determined that Brumby died as a result of an accidental gunshot by his father."
Based on witness accounts and footage obtained from the range, the Sheriff's office said that at the time of the accidental shooting the father was standing in a firing lane with a solid wall to his right.
"After firing a round, the spent shell casing struck the wall causing it to deflect and fall into the back of Mr. Brumby's shirt. Brumby then used his right hand, which was holding the handgun, in an attempt to remove the casing. While doing so, he inadvertently pointed the firearm directly behind him and accidentally fired," striking his son, Monday's statement reads.
Stephen J. Brumby, 14, was shooting with his dad William 'Clayton' Brumby, 64, against a wall at High Noon Gun's… https://t.co/fSsClRL8mF

— Jersey Girl (@NewJerseyGirls) July 4, 2016
The Sherriff's office added that Brumby's other 24-year-old son and 12-year-old daughter had also been present at the shooting range. Neither were injured.
A fundraiser launched on GoFundMe page seeks to raise $10,000 for the family to cover Stephen's funeral expenses.
The fourth of seven children Stephen Brumby is being described as "a meteor that couldn't be contained", who loved archery, tennis, fishing, and knife throwing.
"He had an insatiable appetite to learn and was constantly sharing his wisdom with those around him. He was passionate about his Lord and Savior Jesus Christ and dedicated his life to sharing his hope with everyone he met."
Via RT. This piece was reprinted by RINF Alternative News with permission or license.