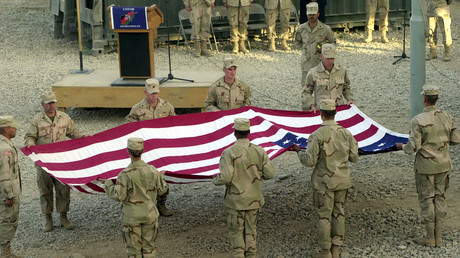 One US soldier has been killed and another wounded during a combat operation in eastern Afghanistan, US Central Command (CENTCOM) has confirmed.
Several Afghan Security Forces were also killed or wounded, though the CENTCOM statement did not provide any figures or additional information. The wounded US soldier is in stable condition and being treated at Bagram Airfield. The US Department of Defense has yet to name the deceased service member while their next of kin is being notified.
"My thoughts and those of U.S. Forces-Afghanistan are with the families and friends of our fallen and wounded service members,"said General John Nicholson, U.S. Forces-Afghanistan (USFOR-A) commander, in a statement Monday. "Their valiancy in battle, and that of the brave Afghan partners they fought alongside, will endure in our hearts and history."
The US and NATO mission officially concluded combat operations in 2014, switching to counterterrorism and support roles alongside the Afghan Security Forces who continue to fight against both Taliban and Islamic State (IS, formerly ISIS) affiliated insurgencies. IS itself claimed responsibility for twin suicide bombings in Kabul on April 30 that killed 25 people including nine journalists.
In October 2015, then-US President Barack Obama halted the withdrawal of US troops from Afghanistan, instead announcing that thousands of soldiers would remain in the country beyond the end of his term of office – effectively indefinitely prolonging the US military's presence there. This decision underscored a failure to fulfil one of his central campaign promises to end the US military interventions in Afghanistan and Iraq started by his predecessor, George W. Bush.
"While America's combat mission in Afghanistan may be over, our commitment to Afghanistan and its people endures," Obama said. "I will not allow Afghanistan to be used as safe haven for terrorists to attack our nation again." However, Obama's successor has also flip-flopped on the issue multiple times.
On the 2016 presidential campaign trail, Trump questioned the wisdom of US combat operations abroad and ran on a platform of non-intervention, deriding previous Oval Office holders for waging expensive wars that did not actively benefit the US or its interests, most notably in Syria.
What will we get for bombing Syria besides more debt and a possible long term conflict? Obama needs Congressional approval.

— Donald J. Trump (@realDonaldTrump) August 29, 2013
Later, when in office, Trump did an about-face, saying the sudden US withdrawal from Iraq left a vacuum for ISIS to fill.
"America hastily and mistakenly withdrew from Iraq. As a result, our hard-won gains slipped back into the hands of terrorist enemies," Trump said in a speech in August 2017. "Our soldiers watched as cities they had fought for, and bled to liberate, and won, were occupied by a terrorist group called ISIS. The vacuum we created by leaving too soon gave safe haven for ISIS to spread, to grow, recruit, and launch attacks. We cannot repeat in Afghanistan the mistake our leaders made in Iraq."
In that address, Trump announced he would also renege on his campaign promises to end US foreign military intervention in Afghanistan. More recently, however, Trump made assurances to Senator Rand Paul (R-KY) that it was now time to withdraw US troops from Afghanistan.
After calling continuously for weeks for Director Pompeo to support President Trump's belief that the Iraq war was a mistake, and that it is time to leave Afghanistan, today I received confirmation the Director Pompeo agrees with @realDonaldTrump

— Senator Rand Paul (@RandPaul) April 23, 2018
President Trump believes that Iraq was a mistake, that regime change has destabilized the region, and that we must end our involvement with Afghanistan.

— Senator Rand Paul (@RandPaul) April 23, 2018
If you like this story, share it with a friend!
Via RT. This piece was reprinted by RINF Alternative News with permission or license.