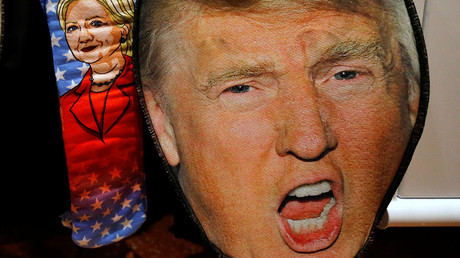 Republican presidential candidate Donald Trump shows a one percent, 46-45, lead over Democrat Hillary Clinton, according to the latest poll. Trump's resurgence follows revelations that the FBI is taking a renewed look at the Clinton e-mails scandal.
Trump's lead in the poll comes despite the Democratic presidential candidate having a lead in early voting, which shows her at 54 percent compared with Trump at 41 percent, according to a Washington Post-ABC News poll released on Tuesday.
One in five likely voters said they had already voted (21 percent), while about one-quarter said they plan to vote early or by mail (24 percent). Only a slight majority plan to vote in-person on Election Day.
The United States Election project said 24.7 million voters have voted early, 19 percent of the 129 million ballots cast in 2012.
Some 53 percent of Trump supporters had enthusiasm for their candidate, compared to only 43 percent of Clinton backers.
Reflecting the difficulty voters have with both candidates this election season, voter enthusiasm has dropped by more than 10 percent compared to that which President Obama enjoyed in 2012, when he scored 64 percent voter enthusiasm, with Romney narrowly behind at 61 percent, according to the poll.
Trump enjoys support from 78 percent of the white evangelical Protestants, 77 percent of conservatives 68 percent among rural voters, and 59 percent among white men, according to the poll. Clinton has 81 percent support among liberals, 67 percent of those identifying with no religion, 60 percent of those in urban areas, and 72 percent among non-whites.
The poll found that Trump has an 18 point edge among political independents, "significantly higher than Republicans have held in recent elections," according to the Washington Post.
Among this group, the 77 percent that say they usually lean Democrat prefer Clinton, while the 80 percent who generally lean Republican favor Trump. Among the 10 percent that say they don't favor either party, Trump shows a sizeable 53-28 advantage over Clinton.
The poll, which was conducted by phone over the four nights from October 27 to October 30, took a random sampling of 1,773 likely voting adults. The results have an overall sampling error of 2.5 points.
Via RT. This piece was reprinted by RINF Alternative News with permission or license.