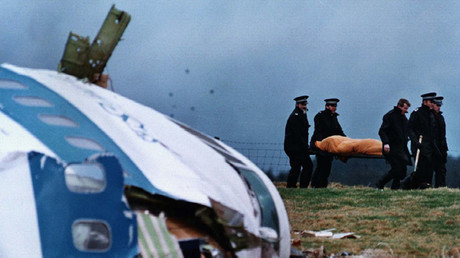 In a bid to overturn his late father's 2001 conviction for the bombing of Pan Am Flight 103 over Lockerbie in 1988, Khalid al-Megrahi, 31, is planning to move to Scotland.
He says he hopes to launch a fresh legal appeal to clear his father's name after a third attempt collapsed last year because of the lack of family involvement in the case.
Khalid, who said he had fond memories of living in Glasgow while his father was in prison, indicated he would return to the UK with his family, which includes a son named after his father, Abdelbaset Ali Mohmed al-Megrahi.
Megrahi Snr. was found guilty in 2001 of 270 counts of murder for the bombing of Pan Am Flight 103 over Lockerbie, Scotland, on December 21, 1988.
The head of security for Libyan Arab Airlines was given a life sentence by Scottish judges sitting in a special court at Camp Zeist in the Netherlands, a conviction he unsuccessfully appealed against.
When doctors diagnosed him with terminal cancer he was released on compassionate grounds after eight years in prison.
Speaking publicly for the first time since his father died in 2012, Khalid said an appeal launched last year had been hampered by the chaos of post-Gaddafi Libya.
He said crime was "everywhere" in his country, the police and court system did not work and Tripoli often went without electricity, which made the task of fighting an overseas legal battle even more challenging.
Khalid said his family had also been targeted because of its perceived closeness to Gaddafi.
"We had a lot of problems at the beginning of the revolution. We had a home and car stolen and they burned out our farm. There were also a lot of other things that happened to the family. The reason for doing all these crimes was that we belonged to the tribe of Megrahi," he said.
He believes it will be easier for his family to pursue an appeal on behalf of his late father if he returns to Scotland.
"The people of the country have always been very friendly towards us," he said.
"We want justice, not just for our family, but also for the families of the victims. My family have been victims too."
Megrahi's release in 2009 outraged some relatives of the Lockerbie victims, while others were skeptical of his guilt in the first place.
Dr. Jim Swire, whose daughter was killed in the bombing, said he was convinced Megrahi's conviction would be overturned if another appealed went ahead.
Megrahi's lawyer, John Ashton, published a book suggesting Iran had actually been responsible for the bombing, but because the US had shot down Iran Air flight 655 – killing all 290 people on board – the West wanted to avoid angering the Islamic Republic and so pointed the finger at Libya.
However, Susan Cohen of New Jersey, who also lost a daughter in the attack, remains convinced Megrahi was responsible.
It was "despicable" for his family to claim they are also victims, she said, adding "He was a mass murderer and to defend him is disgusting."
Via RT. This piece was reprinted by RINF Alternative News with permission or license.