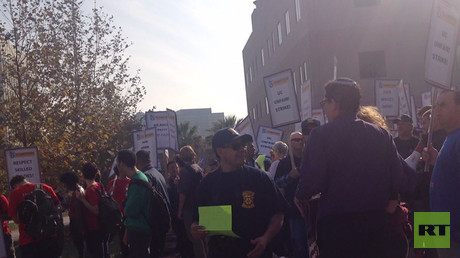 500 Teamsters employed by the University of California, Los Angeles (UCLA) hit the streets to protest not receiving raises in four years and any contract renegotiations in the last three years.
Teamsters from Local 2010 staged demonstrations around UCLA and the Westwood area Thursday to protest low wages and UCLA's refusal to bargain with them.
"All this is because we're 24 percent below prevailing wage. No raise in four years, no contract in three," Local 2010 spokesperson Charlie Doan told RT. "UCLA is failing to negotiate."
The Teamsters Union is often associated with truckers, but they've come to represent something of a catch-all for the maintenance work that keeps UCLA humming.
"We're all the facilities mechanics, engineers, plumbers, electricians, fire techs. The full gamut of a maintenance operation – all trades involved," Doan said.
The contracts at the center of the protest expired three years ago and on top of that, the workers have filed unfair labor practice complaints over unpaid back wages. Union representatives met with UCLA representatives last week, but UCLA did not come prepared to negotiate.
"They came to the table with no money, said they didn't have the authorization or authority to make a counteroffer, so we're doing this to show our strength," Doan said.
UCLA-affiliated Teamsters are not the only ones hitting the picket line; the University of California, San Diego is prepared for workers to go on strike on Friday for similar problems. Skilled trades-workers at these two UC schools are paid $32 an hour, which is about $10 an hour less than what other similarly employed workers in the area are paid, KABC reported.
The low wages are particularly perturbing to some employees because of the money the UC schools and their affiliated hospitals bring in.
"UCLA hospital is fifth in the nation and they pay us below everyone else here and all we're asking is for what's fair," Doan said. "We're asking for a 20.39 percent increase and their first offer was 6 percent."
While it isn't abnormal for negotiations to start high and gradually lower, UCLA did not exactly follow the standard procedure, Doan said.
"We've been coming down trying to meet them and they went up to 10 percent then they went back to 6.5," Doan said.
UCLA has responded to the events by claiming that the strike was unlawful and filed an unfair labor practice charge with the California Public Appointment Relations Board, according to WABC. However, Doan and other Teamsters denied the claims and asserted that this was not an unannounced wildcat strike but that UCLA had been given ample notice to prepare.
In a statement, UCLA said it was "disappointed" by the strike and encouraged the public to reschedule any nonessential appointments at the Ronald Reagan Medical Center during the strike.
Via RT. This piece was reprinted by RINF Alternative News with permission or license.