dangerousminds.net
July 7, 2013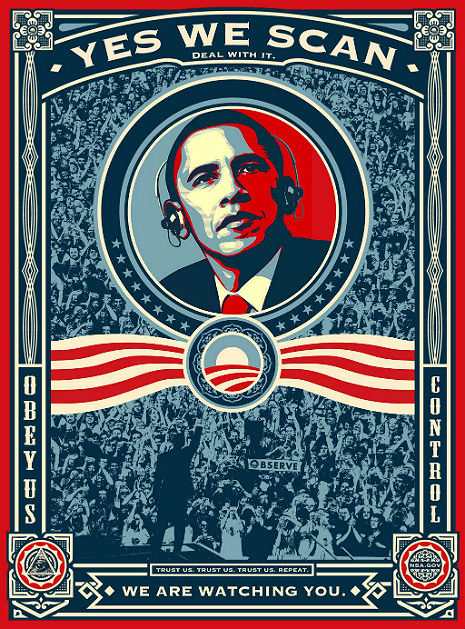 Though most people seem to be dimly aware of the fact that NSA whistleblower Edward Snowden was not technically an employee of NSA or the US Federal Government, I don't see anyone raising the kind of stink that this pertinent little fact truly merits. And combine that with the "anything goes" environment that was clearly in operation while Snowden was peering into pretty much whatever he wanted, and the implications are pretty fucking serious indeed.
Let's start with one of Snowden's comments to Glenn Greenwald and the UK's Guardian newspaper:
But I sitting at my desk certainly had the authorities to wiretap anyone from you or your accountant to a Federal judge to even the President if I had a personal e-mail."
Say what? So I'm not allowed to even know this program exists, but a high school dropout working in a lowly cubical in Booz Allen Hamilton can listen in to everything I say on the telephone or write in an email or post on the Internet? What the fuck? Doesn't anyone see how screwy that is?
Maybe we've just stopped giving a shit and are hoping to ride out the last years of Empire in blissful ignorance, chatting about cute cats on Facebook and watching our favorite shows on TV (The Mad Men season finale was just superb, wasn't it?) OK, I get that. But let's at least think about what it is we're tuning out because, who knows? It could cause the US death-spiral to come around far sooner than anticipated, and that would be a serious buzz kill.
So let's break it down, shall we? What's the biggest secret exposed by Snowden so far? That the NSA engages in ubiquitous surveillance on pretty much all forms of communication in the US, of both domestic as well as internationally-bound traffic? Well, we kinda knew that already. Back in 2005 AT&T Telecom engineer Mark Klein blew the whistle on the NSA's "secret room" in the Folsom Street CO (Central Office). Any kind of analysis of that setup (and Klein even included the connection diagrams) would give you a decent idea of what was going on. So no, ubiquitous surveillance wasn't much of a surprise, not if you were paying careful attention.
What IS a surprise was just how fucked up and sloppy the whole NSA operation is. In fact, during his live chat via The Guardian's website on June 17th, Snowden said this:
Additionally, audits are cursory, incomplete, and easily fooled by fake justifications.
In other words, the National Security Agency just let a bunch of freelance contractors more or less run wild with unlimited access to the most sensitive conceivable data of any and every US citizen along with a goodly portion of communications of non-US residents as well.
Monitoring? Controls? Audits? Are you shittin' me? But how can we be absolutely sure, you might ask, that Snowden was telling the truth? Precisely because even a low-level contractor was able to access and download highly classified PowerPoint presentations and a whole smorgasbord of super secret spy stuff and then leak it to the world! (In modern computer networks this is trivial to control.)
At first blush it would appear that the main thing NSA has been doing with their impenetrable cloak of secrecy is to completely goof off and unaccountably run wild with their very special powers with the only "control" in place being the fear that any leakers would experience the Bradley Manning treatment. If it weren't for the NSA cone of silence, this would be heralded universally as laughably and unbelievably incompetent. On the other hand, perhaps this isn't simply complete negligence. Perhaps it's the symptom of something far darker…
Consider what YOU would do with that level of access. After you got into work, grabbed coffee, and read TMZ, you might spend half an hour or so checking out red-tagged conversations of, say, members of Mosques in Brooklyn, or say, groups of Muslim girls gathering to watch Jon Stewart (yeah, that's a real thing), or maybe even listen in on the methed-out ravings of some hillbilly militia scaring each other into buying yet more guns in preparation of the UN's inevitable communist takeover of bumfuck Idaho. But all of that "real work" would get boring fast. So maybe you daydream a bit and then, all of a sudden, it hits you: What if you could, say, listen in on the CEOs, CFOs and whatever other Os there are of some mega-corporation. Hell, you could probably use a special software "agent" to automatically scan huge wads of traffic and send you anything with the phrases, "Bankruptcy announcement to the press tomorrow", or "Earnings shortfall" or "Hostile takeover." Knowing as you do that no one's monitoring what you access on those super-secret NSA pipes, you realize it would be both trivially easy and unbelievably lucrative to act on an early tip before it was announced to Wall Street. In fact, you could possibly make millions.
But then another thought hits you. Maybe, just maybe, you aren't the first person to think of this. In fact, Booz Allen Hamilton has been growing their government consulting business to National Security agencies by leaps and bounds, and their financial consulting arm has been doing pretty good too:
Booz Allen provides support to all federal finance and treasury organizations charged with the collection, management, and protection of the nation's financial system. Such agencies include the US Department of the Treasury, Internal Revenue Service, Office of the Comptroller of the Currency, Federal Deposit Insurance Corporation, Federal Reserve Board and Banks, Securities Exchange Commission, and Pension Benefit Guaranty Corporation
So doesn't this strike you as somewhat "funny"? Isn't this some major league conflict of interest? On the one hand, BAH has been clearly given carte blanche to listen in on anything and everything, and they also happen to be in the financial "consulting" business. Would BAH ever take a significant financial position based on, oh let's say, very privileged information? Though they may or may not do this under their own name, they clearly have the financial chops to create a vast maze of shell companies. Or maybe BAH as an organization doesn't do this, but bigshots within it do.
Perhaps this sounds paranoid or like completely baseless speculation, but after the LIBOR and REIT scandals, it's obvious that there are no government checks in place to detect such activities. Moreover, even if this hasn't actually happened yet, given the sloppiness of the controls and unlimited access to surveillance data, it's absolutely obvious that this is going to happen sooner or later. Indeed, perhaps that sloppiness in protecting confidential data is precisely because someone's dipping into this data goldmine and is making out like a bandit.
From here it's easy to imagine all sorts of ugly scenarios: A giant, über-secret private company that is ultimately answerable to no one but that has access to anything you might say or post on the Internet (ie, including what you might do to try to stop it), while also being able to capitalize on their access to literally priceless financial secrets via their consulting and access to the markets. Once such a monstrosity sunk its claws in deep enough it would be very difficult to pull that thing off…ever. Then again, isn't this what the Koch Brothers and their stooges the Tea Party wanted all along? They want to kill the state and Federal agencies so that a small keiretsu of giant companies can step in and take over. This "state corporatism" had a name which was called, hold on a minute while I remember…oh yeah, that's right, Fascism.
Am I saying there's some gigantic fascist conspiracy out there ready to take over the world? Nah. Well, probably not. But the point is that there doesn't need to be an actual conspiracy in order for our true liberties to be under attack by the large corporations: Remember, Nestlé's CEO wants to privatize your water supply and sell your water back to you; Bush, Cheney and the cartoonishly malevolent Dr Strangelove Donald Rumsfeld privatized war and Mike McConnell of Booz Allen Hamilton has long been a (successful) advocate of privatizing US national security (and he was previously director of National Security under Bush).
Where's all this headed? I don't know, but I DO know it ain't headed for more security, more freedom and better access to water in the world! These fuckers have a vested interest in keeping things nice and turbulent while making you think that there are legions of Muslims, communists and homosexuals out there just waiting to steal your freedoms, give away all your hard-earned stuff and sodomize your children. Meanwhile, of course, they and the Congress they have bought and paid for keep defunding essential Federal programs to the point where they can no longer function properly, so the public concludes, "Well, these government agencies can't do anything so we might as well just get rid of them. And let's privatize prisons and schools while we're at it."
Who knows? Will we soon enter the time where private contractors raised on "Call of Duty" operate domestic drones and have kill quotas that earn them cash incentives? Fuck, I read the kill list wrong, one might say, Can you ask your buddy to change the name on my list to whoever it was I just nailed? Thanks, pal. Beers are on me tonight.
What's the solution? I don't know, but let's apply a nice, hot blowtorch to Booz Allen Hamilton's filthy snout and push them the hell out of that giant government feeding trough filled to the brim with our tax dollars: They're clearly incompetent, negligent, and have allowed documents of National Security to be accessed, downloaded and then leaked. (And don't misunderstand: Snowden is a hero for exposing all of what's been going on, but that still doesn't mean BAH wasn't negligent.) We also need to take baseball bat to the giant, heavy-lidded porcine head of the NSA as it gobbles down the information you and I own.
Let's just not miss what is arguably an even greater danger, the privatization and outsourcing of tyranny itself to the big mega-corporates.