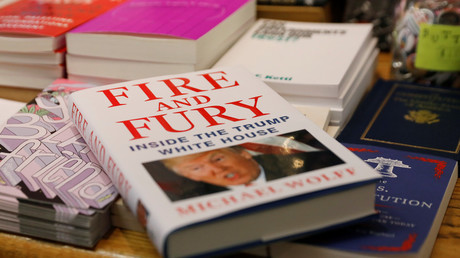 The internet has gone into meltdown over a new 'tell-all' book sourced from inside the Trump White House that could, the author claims, bring down the president.
Journalist Michael Wolff said Saturday that his book contains revelations that will eventually lead to the fall of Donald Trump's administration. Meanwhile, Trump has slammed 'Fire and Fury: Inside the Trump White House' as "boring" and "untruthful," and lambasted his former chief strategist, Steve Bannon, for his contribution to the book.
Michael Wolff is a total loser who made up stories in order to sell this really boring and untruthful book. He used Sloppy Steve Bannon, who cried when he got fired and begged for his job. Now Sloppy Steve has been dumped like a dog by almost everyone. Too bad! https://t.co/mEeUhk5ZV9

— Donald J. Trump (@realDonaldTrump) January 6, 2018
Amid the angry tweets and legal threats, however, a flurry of excerpts (real and fake) are being shared widely online, adding to the ongoing hype. Here, RT.com is asking its hawkeye readers which of these claims are real excerpts from the book and which are definitely 'fake news.'
Via RT. This piece was reprinted by RINF Alternative News with permission or license.