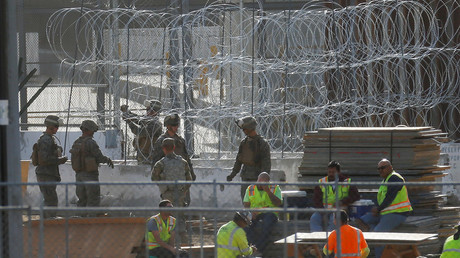 US military and border protection agents have extended razor wire and erected barricades at the point of entry near San Diego, California, as the first groups of migrants arrived at the US-Mexico border.
Hundreds of migrants who had split off from the main 'caravan' arrived in Tijuana early Tuesday on nine buses. Numbering just over 350 people, they joined an initial, small group of around 85 people, mostly members of the LGBT community, who'd experienced discrimination within the main crowd and were helped to make it to the Mexican border town even earlier on Sunday.
In anticipation of potential clashes at the border, American soldiers have begun reinforcing their positions. "Department of Defense personnel are installing concertina wire, and pre-positioning jersey barriers, barricades, and fencing," US Customs and Border Protection (CBP) said in a statement.
A snaking line of traffic is visible at the San Ysidro Port of Entry after CBP announced it would close multiple entry lanes into the U.S. at two San Diego-area ports of entry in anticipation of the so-called migrant caravan's arrival.
https://t.co/92mOg1XNqupic.twitter.com/mrQU6HYAgH

— #NBC7 San Diego (@nbcsandiego) November 13, 2018
To tackle any "potential safety and security risk," the CBP also announced lane closures at the San Ysidro and Otay Mesa ports of entry, to install "port hardening infrastructure equipment" in preparation for the migrant caravan arrival. Currently, several thousand Central American migrants heading for the US are in the western Mexico city of Guadalajara. Most of them intend to take the Pacific coast route to reach the US, which is still about 1,500 miles away.
A group of migrants is gathered on the Mexico side of the U.S/Mexico border fence in San Diego. None have fully climbed over, just sitting on the fence. pic.twitter.com/S8nUzjzKyZ

— Kelly Biele (@kellytvnews) November 14, 2018
Troops getting ready to close off three NB vehicle lanes at the San Ysidro Port Entry and one at the Otay Mesa Port of Entry. They'll be putting up barriers and razor wire in preparation for the migrant caravan headed to the US/Mexico border. @10Newspic.twitter.com/rc6YsAF5VQ

— Mimi Elkalla (@10NewsMimi) November 13, 2018
To deal with the perceived threat the US has deployed 5,200 troops to help more than 2,000 National Guardsmen thwart what Donald Trump has described as an impending migrant "invasion."
READ MORE: 1,000s of troops & 'beautiful' razor wire: US border reinforced against 'migrant invasion' (VIDEOS)
Over the past few weeks, the active-dutyservicemen deployed under Operation Faithful Patriot have mainly been erecting barbed-wire fences along the border in Texas, California and Arizona, as well as building shelter accommodation for customs and border protection staff. To ensure the success of the military operation, in addition to sheer troop numbers, the US forces have drones, helicopters with night-vision capabilities, and fixed-wing aircraft at their disposal.
If you like this story, share it with a friend!
Via RT. This piece was reprinted by RINF Alternative News with permission or license.