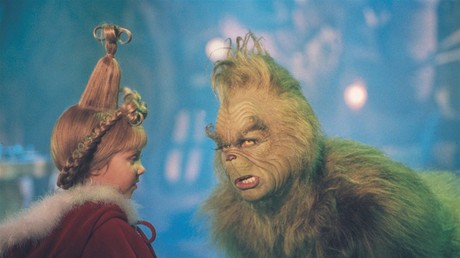 Christmas miracles and beautifully wrapped gifts are what most children yearn for all year round, but a class of first graders had this year's holiday ruined for them after a substitute teacher told them Santa isn't real.
An upset mother shared the story on Facebook, saying the teacher at the Cedar Hill school in Montville asked the six-year-old pupils what holiday was lying ahead.
One responded "Christmas" and then the unnamed substitute teacher went full-on Grinch.



Also on rt.com
'PC stuff is getting ridiculous': Radio stations axe Christmas classic due to #MeToo concerns




She replied that "Santa isn't real and parents just buy presents and put them under their tree."
And she didn't stop there. "Reindeer can't fly and elves are not real" she claimed, while an elf is merely a "pretend doll that your parents move around."
The teacher seemed to be on a real warpath against childhood myths.
"She did not even stop there: the tooth fairy is not real because mom or dad just sneak into your room in the middle of the night and put money under your pillow, same goes for the Easter bunny," the mother of one of the kids wrote on Facebook.
"She told them magic does not exist. There is no such thing as magic anything."
The mother said she and many others were left having to do "damage control" after the kids had their sense of wonder shattered.
The Cedar Hill School principal Michael Raj was forced to apologize over what it branded the teacher's "poor judgment."
The teacher's name was not released and it is not yet known whether the school will take disciplinary action against her.
As teachers are supposed to preserve children's innocence rather than crushing their dreams, the sub got bashed on Twitter.
Instead of encouraging kids to send their letters to the North Pole as most of them are generally taught, she was accused of "ruining Christmas."
So pretty much this sub teacher just told those kids their parents are liars. And ruined christmas magic for them. What right does this sub teacher think she has to do such a horrible thing to those families. That was NOT her right. https://t.co/IAkPFsikYl

— ʍąяȼ¥$яą˅ℓ๏ǥ$ (@MarcysVlogs) December 1, 2018
Whatever happens in her teaching future, I am confident this teacher will be visited by three ghosts on Christmas Eve. New Jersey school district apologizes after substitute teacher tells first-graders that Santa Claus is not real https://t.co/beCx3LzHcj

— Bob K (@BobK87424890) December 4, 2018
If you like this story, share it with a friend!
Via RT. This piece was reprinted by RINF Alternative News with permission or license.