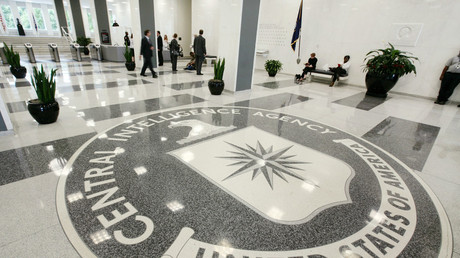 A US group promoting press freedom has sued US intelligence agencies to find out whether they failed to warn Jamal Khashoggi about an impending Saudi plot against him.
Khashoggi, a self-exiled Saudi journalist, was killed by a hit squad deployed by a senior Saudi official and possibly on an order from the kingdom's crown prince and de facto ruler Mohammed bin Salman. Earlier reports in the Washington Post said US intelligence intercepted Saudi communications, in which a plot was discussed to lure Khashoggi into returning to Saudi Arabia and detaining him.
READ MORE: Senators ask Trump to investigate if MBS was responsible for Khashoggi's death
There is a rule that demands that if the US intelligence community learns about a plan to kill, maim or kidnap a person, they must act to warn them. And so a group called the Knight First Amendment Institute wants to learn what exactly the US spies knew about the Saudi plot and whether they failed to warn Khashoggi.
Last month the group, which is based at Columbia University, filed a Freedom of Information Act request, seeking disclosure of relevant documents from the CIA, the FBI, the NSA, the Office of the Director of National Intelligence, and the Department of State. They say the request was not met so far, so on Tuesday they sued the federal government to compel the disclosure.
"Our request for information about agencies' compliance with the 'duty to warn' was urgent when we filed it, but it has become even more so in light of the White House's shameful efforts to minimize the gravity and significance of this reporter's murder, and to shield from responsibility the people who authorized it,"said Jameel Jaffer, executive director of the advocacy.
He was referring to this week's statement released by the Trump administration, which argued that the strategic partnership with Saudi Arabia was more important for the US than getting to the bottom of the crime.
"The government must explain what it knew of the threat to Khashoggi before his killing, and what, if anything, it did to warn him of that threat," Jaffer said.
The Committee to Protect Journalists has filed its own request to release the same records, joining the Knight Institute's transparency campaign.
The Institute was created to take legal action in defense of the First Amendment and defense of press freedom. It is involved in another litigation against the US government, seeking a court order to prevent Trump barring Twitter users from commenting on his feed by blocking them. They have scored the first victory in this case in May.
Like this story? Share it with a friend!
Via RT. This piece was reprinted by RINF Alternative News with permission or license.