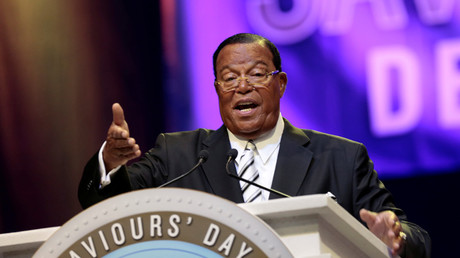 Nation of Islam leader Louis Farrakhan told Iranians 'victory will be yours,' calling on them to persevere despite unprecedented sanctions from the country their leaders have called the Great Satan.
Farrakhan stopped just short of calling America the Great Satan himself when he spoke at Tehran University. "Is it not true that you have called America the Great Satan? Well, if you believe what you say, then would not Satan be actively involved in trying to destroy a nation that is set up on the belief and practice of submission to the will of God?"
Louis Farrakhan Refers to the U.S. as "Great Satan" during a Tehran University Speech; Says to Iranians: If You Persevere in Your Revolution Despite the Sanctions, "Victory Will Be Yours." pic.twitter.com/7ZVloq2cXL

— MEMRI (@MEMRIReports) November 5, 2018
He also allegedly chanted "Death to America" in Farsi to an amused audience.
Iran state TV news presenter: Listen to leader of Nation of Islam chanting "Death to America"

Farrakhan [in Farsi]: "Death to…"
Audience: "…America" pic.twitter.com/p0qGfHHfg0

— Sobhan Hassanvand (@Hassanvand) November 4, 2018
In a meeting with the Secretary of Iran's Expediency Council Mohsen Rezai, Farrakhan warned the US government that sanctioning Iran was "a big mistake." They agreed that Muslims should unite in the face of "enemies' plots," and Rezai called for an international movement to counter western hegemony.
Farrakhan is no stranger to controversy. Last month, Twitter erupted in outrage after he tweeted a clip of a speech where he announced, "I'm not anti-Semite, I'm anti-termite." He previously called Jews "satanic." Twitter had recently added new rules meant to curb 'dehumanizing' language and blocked hundreds of accounts for reposting variations of the "NPC" meme US conservatives use to mock liberals, but Farrakhan's tweets were apparently not a violation.
Earlier this week, the US reimposed all the sanctions it had suspended under the 2015 nuclear deal, which Trump quit unilaterally despite Iran's compliance.
Via RT. This piece was reprinted by RINF Alternative News with permission or license.