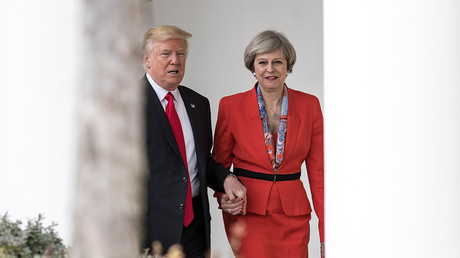 The US ambassador to London has made one of the most cringeworthy topics in geopolitics even more toe-curling, using a tweet to assure Britain that it has the 'MOST SPECIAL' relationship with Washington. Yes, he used caps.
In a scene reminiscent of an indulgent mother reassuring her two toddlers, Woody Johnson assured Paris " … we have a great relationship with France too." While that could make Emmanuel Macron feel more secure, it's unlikely to have Theresa May whooping with joy.
The UK has the MOST SPECIAL relationship with the U.S., but we have a great relationship with France too. https://t.co/U3FIS12Uom

— Ambassador Johnson (@USAmbUK) May 8, 2018
Ambassador Johnson has been replying to his masses of Twitter fans via the hashtag #AskWoody, saying there is nothing for the UK to worry about, which isn't surprising coming from the ambassador. Nothing to worry about, apart from France slipping in between the diplomatic sheets.
The UK/US special relationship has always been a bit of an awkward topic. Coined by Winston Churchill in a 1946 speech, the 'special relationship' is frequently used to describe the close political, diplomatic, and military ties between the two countries.
In recent decades, the term has very much seemed to be more important for British diplomats as global influence faded, and US leaders were simply paying lip service to the idea.
According to one of Obama's former aides Jeremy Shapiro: "It was very important for us to mention the special relationship in every press conference that we had when the UK were here. But really we laughed about it behind the scenes." 
There have been some special relationships along the way – Thatcher and Reagan, Blair and Bush, and Obama and Cameron. May's done her best with Trump, but France's Macron has been willing to take her hand-holding efforts, and raise her some cuddles and French cheek kissing.
Doubt has been cast over the special relationship as of late, with President Trump's refusal to visit the UK over a row over the US embassy. The POTUS cancelled his February trip to open the brand spanking new embassy in Nine Elms, blaming Obama for what the new president considered a bad deal.
READ MORE: Relation Speciale? UK pushed aside as French take pole position behind US in latest military action
In the meantime, Trump and the French President have put on public displays of affection in Paris and Washington. Luckily, Ambassador Woody has taken the chance to assure the people of Great Britain and the US that all is well… even though the Don has still yet to touch down on UK shores. He's set for a visit soon…just not to the royal wedding. Awkward. If you ask Woody though, the special relationship is "strong and getting much stronger".
Think your friends would be interested? Share this story!
Via RT. This piece was reprinted by RINF Alternative News with permission or license.