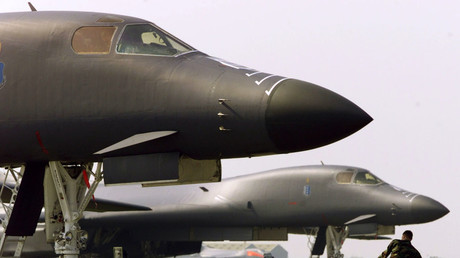 The US Air Force has grounded its entire B-1B 'Lancer' bomber fleet, due to safety concerns related to the aircraft's ejection seats not functioning properly.
The decision was taken as a direct result of an incident last month, where a Lancer had to make an emergency landing at Midland Airport in Texas.
The Air Force confirmed in a statement that a safety investigation uncovered an issue with ejection seat components that necessitated a stand-down of the full fleet until further investigations are complete. The aircraft will return to flight as issues are resolved.
Questions were raised at the time as to whether the ejection seat had failed after photos of the incident circulated on social media, showing that at least one of the four cockpit escape hatches had blown, but the ejection seat had not been deployed.
The bomber was not carrying any munitions at the time, and no one was injured.
READ MORE: 2 US B-1B strategic bombers conduct firing drills with South Korea & Japan
The supersonic B-1B, manufactured by Boeing, carries the largest conventional payload of any aircraft in the US Air Force. The non-nuclear bombers returned to the Middle East for the first time in nearly two-and-a-half years last April to take over strike missions from B-52 Stratofortress bombers.
The B-1Bs were used in US strikes against Syria's chemical weapons facilities in April in response to an alleged gas attack in Douma, which was blamed by the US, UK and France on government forces.
READ MORE: 'Mission accomplished': Trump praises 'perfectly executed' strike on Syria
The long-range, multi-role heavy bomber was first used in combat in 1998, and it was heavily used during the 2003 Iraq War. Last year, a number of B-1B bombers flew over South Korea as part of joint military exercises, which was denounced by North Korea.
Like this story? Share it with a friend!
Via RT. This piece was reprinted by RINF Alternative News with permission or license.