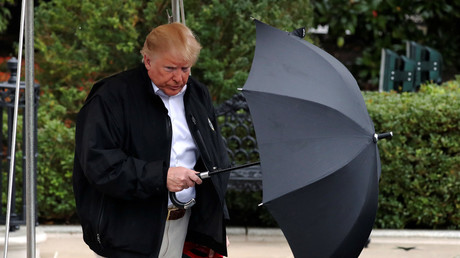 As if Donald Trump needed to give his haters more ammunition, the US President has now been accused of trampling on the memory of the US Marines killed in WWI after he canceled a memorial cemetery trip due to rain.
Trump was due to travel some 50 miles (85 km) east of Paris on Saturday to pay his respects to the 2,888 US Marines buried in the Ausne-Marne American Cemetery in Belleau. Despite that the main reason Trump and dozens of other world leaders came to France this weekend was to commemorate the centenary of the end of the WWI, including its fallen heroes, the US president skipped the ceremony, sending his Chief of Staff, retired General John F. Kelly, in his place.
The White House has provided a rather prosaic explanation for Trump's no-show, claiming in the statement that his trip "has been canceled due to scheduling and logistical difficulties caused by the weather," or, to put it simply, light rain and cloudy skies were deemed no-fly weather for Trump's helicopter.
Hardly anybody was OK with the explanation, which has now sparked a range of emotions on Twitter, from righteous indignation to bewilderment to outright ridicule.
Recalling Trump's well-known awkward umbrella moments, some have suggested that the US leader sought to escape another embarrassment at the hands of rainy weather.
Former US ambassador to Russia Michael McFaul even offered Trump a symbolic umbrella.
Others argued that Trump simply did not want to risk having a bad hair day, something he has recently admitted he dreads.
Trump previously drew criticism in the wake of the Pittsburgh synagogue massacre after he admitted contemplating skipping a Make America Great Again rally at the time, not out of respect for the dead, but because he was having a "bad hair day."
Comparisons to Trump's predecessor Barack Obama and his former Democratic presidential rival Hillary Clinton were not far behind, with liberal commentators pointing out that Clinton was feeling unwell but still went to a 9/11 memorial service in the run-up to the 2016 presidential elections, though she later collapsed in the process.
Meanwhile, former Obama officials have said that the predicament could have been easily avoided by arranging a motorcade.
Obama's deputy national security advisor for strategic communication, Ben Rhodes, argued that there is "always a rain option", calling Trump's snub a "remarkable insult  to our allies who lost so many millions of people for Trump to fly all the way to Europe to sit in a hotel room."
Think your friends would be interested? Share this story!
Via RT. This piece was reprinted by RINF Alternative News with permission or license.