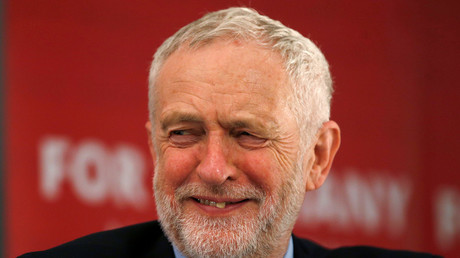 The Russian bots have finally come out of the woodwork thanks to a Sunday Times 'investigation' exposing the pesky trolls' support for Labour in the run-up to last year's snap general election.
Several Labour and Jeremy Corbyn supporters reacted to what they called an "absurd smear piece" by posting photos of themselves with the caption #WeAreAllRussianBots.
Others went one step further, showing solid commitment to the cause, by donning some stereotypical Russian attire for their 'coming out' as Kremlin operatives.
READ MORE: Sunday Times 'explosive' report on Russian bot support for Corbyn is really a complete dud
The Sunday Times published a joint investigation with Swansea University claiming that 6,500 'Russian' Twitter accounts published messages of support for the British Labour Party in the seven weeks before last year's general election.
The study has been questioned for its vague details and dubious methodology. Some social media users also expressed little trust in the publication behind the investigation pointing out that the Sunday Times is owned by Rupert Murdoch. Murdoch has been long accused of having a cosy relationship with the Conservative party and using his media outlets to endorse them.
The claim has also been challenged by some members of the Labour party who have dubbed it as part of an ongoing smear campaign against Jeremy Corbyn and the party. Labour MP for Derby North Chris Williamson said it was a "ludicrous smear" peddled ahead of UK local elections, Thursday.
READ MORE: Murdoch's Sunday Times to be sued? Explosive claims break that paper hired PIs to spy on MPs
Think your friends would be interested? Share this story!
Via RT. This piece was reprinted by RINF Alternative News with permission or license.