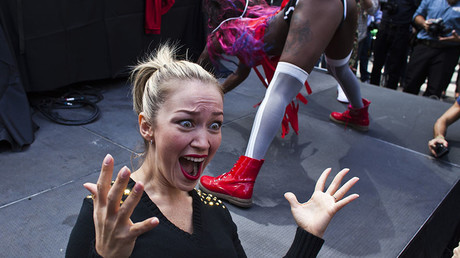 An accused car thief made a sensation when he was caught shaking his money maker during his court appearance. The man's history of mental health issues left the judge unamused by his antics.
Calvin Lloyd Griffith, 30, may not have fully understood the proceedings on Thursday as his mother appeared in court with the mental health medication he had stopped taking prior to his arrest.
When Griffin saw her, he exclaimed "My mom's here!" according to WTVJ. His microphone was promptly cut off after that incident, but that did not stop him from expressing himself through the art of dance.
A woman in court identified herself as his mother and came armed with the prescription medications she claims he stopped taking.
Miami-Dade Judge Catherine Pooler did not join in the court's giggles when he started dancing. When she realized he was getting attention, she told the court, "He's got problems."
He is accused of trespassing, grand theft and burglary after he walked into Miami Edison Senior High School and, took an employee's keys and stole his vehicle from the parking lot.
Griffith is known to police as a mentally impaired person and his mother explained that she was going to take him to see his psychiatrist, but he ran away on Wednesday. She went to Downtown Miami to locate him and tried to have him placed in a hospital. When asked if he needed treatment for mental health, drugs or both, his mother told the court, "Mental health, schizophrenia and bipolar."
This is not the first time Griffith has been arrested. At the time of his arrest, he was on parole for similar charges according to WTVJ.
He is being held on an $18,000 bond until his next appearance Friday.
Via RT. This piece was reprinted by RINF Alternative News with permission or license.