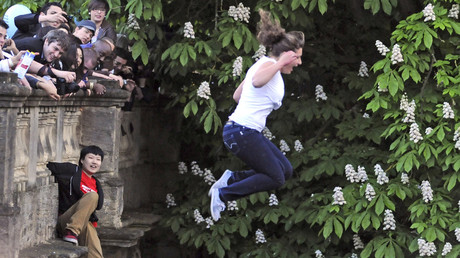 Tory-supporting youth organization Activate – the right wing's answer to Labour-supporting Momentum – has been shut down… despite launching only two months ago.
Activate UK's former spokesman Sam Ancliff told Politics Home that his group had experienced "huge success."
"We drove forward the change in mindset in the party which has seen a shift in policy focus and the revival of Young Conservatives," he said.
READ MORE: New Tory campaign denies links to messages about 'gassing chavs'
Now bust, the group has changed its Twitter profile name to 'The Artist Formerly Known as Activate,' with one lonely tweet saying: "Well, that was fun."
And yes, it was fun watching the group move from calamity to calamity, from accusations of classism, to even promoting fake Jeremy Corbyn pictures. Activate will be missed. Here are some of their greatest moments.
#meme
The group awkwardly launched on Twitter with the name Activate_uk_net. Their first foray into Twitter was met with derision, with users mocking their posting skills and pointing out that accompanying a meme with the text reading '#meme' was a little on the nose.
'Gassing chavs'
Activate came under fire after right-wing blog Guido Fawkes published messages from a WhatsApp group, which was reportedly used as a precursor to the formation of Activate.
The messages show people apparently joking about "chavocide," writing that they could use "chavs… as substitutes for animals when testing," and that they wanted to "gas them all," while comparing them to "vermin."
Another person suggested they should "run some experiments on them to see why they are so good at producing despite living rough." Others want to turn the Isle of Wight into a "super prison," or enforce "compulsory birth control on chavs."
In a statement to RT, however, Activate denied those responsible for the comments were ever part of the group.
Fake news
The group also faced a backlash when it falsely claimed that Jeremy Corbyn had met with Syrian leader Bashar Assad two years ago, during the height of the country's civil war.
The group posted a YouTube video, which contained the claim that "in 2016 Jeremy Corbyn visited Assad in an event funded by Palestinian Lobbyists."
It was later admitted that Corbyn had been in Syria, although it was back in 2009 and as part of the Palestinian Return Center, chaired by Conservative peer Lord Sheikh. Calls followed for Corbyn to sue the organization.
Time they were sued

— Stephen Kelly, #PCPEU (@kellydanceclub) April 16, 2018
Activate's fate over just two gaffe-packed months should serve as a warning for Tories to avoid explicitly engaging with the youth. Though news that hip, young thing Michael Gove will spearhead their latest attempt at winning over millennials shows that some lessons are never learned.
If you like this story, share it with a friend!
Via RT. This piece was reprinted by RINF Alternative News with permission or license.