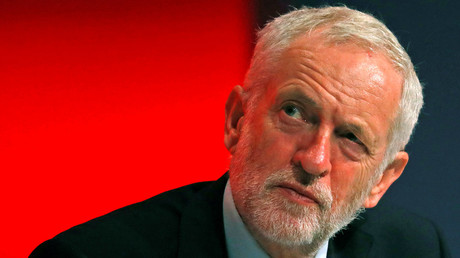 Jeremy Corbyn, speaking during the Labour conference, went on the offensive attacking not just his usual Tory targets but foreign governments including those of Hungary, Israel, the US and even Russia.
Emboldened by decent polling and a Conservative party in turmoil, Labour leader Corbyn went on the attack. His targets were: 
'Viktor Orban's hard-right government'
After facing months of attacks over perceived antisemitism, Corbyn attempted to turn the tables on the Tories, accusing them of hypocrisy on the issue. 
Speaking to a packed ACC hall, Liverpool, Corbyn said: "We won't accept it when we're attacked by Tory hypocrites who accuse us of antisemitism one day, then endorse Viktor Orban's hard right government the next. Or when they say we are racist, while they work to create a hostile environment for all migrant communities."
'Evidence points toward Russia'
In his strongest statements yet on the incident, Corbyn stated that evidence 'now points clearly to the Russian state' being to blame for the Salisbury poisonings of former-Russian double agent Sergei Skripal and his daughter, Yulia. The Labour leader had previously called for all the avenues of international law be explored before blame for the incident be assigned. The Russian state has consistently denied any involvement. 
'Israel's discriminatory Nation-State Law'
In a significant step on the issue of Israel-Palestine, Corbyn pledged that Labour would "recognise a Palestinian state as soon as we take office."
He also condemned the recent "Nation-State Law" enacted by the Israeli government and hit out at the the killing of "unarmed demonstrators" in Gaza to mark the 70th anniversary of the "Nakba".
He told Labour conference delegates: "Our Party is united in condemning the shooting of hundreds of unarmed demonstrators in Gaza by Israeli forces and the passing of Israel's discriminatory Nation-State Law."
READ MORE: Labour will recognize Palestinian state if we win General Election – Corbyn (VIDEO)
The 'aggressive nationalism' of Donald Trump
Taking aim at a consistent target, Corbyn slammed US President Donald Trump accusing him of a litany of abuses including "turning his back on international cooperation and even international law."
Corbyn said: "When President Trump takes the US out of the Paris accords, tries to scrap the Iran nuclear deal, moves the US embassy to Jerusalem and pursues aggressive nationalism and trade wars – he is turning his back on international cooperation and even international law."
Corbyn's on form. Speaking with authority and compassion about the people of Yemen, Syria, Rakhine State and Palestine.

— Nooruddean (@BeardedGenius) September 26, 2018
No-deal Brexit a 'national disaster'
On Brexit and the prospects of a General Election, Corbyn has said that Labour will vote against Theresa May's Chequers proposal if it forms the backbone of any final deal with the EU's 27 member states, and claimed that the prime minister would be forced to call a GE if she could not get it through parliament.
Fine tuning the party's Brexit position, Corbyn told delegates assembled in Liverpool: "As it stands, Labour will vote against the Chequers plan – or whatever is left of it –and oppose leaving the EU with no deal."
He declared that a Brexit "No deal" would be "a national disaster" and that "if parliament votes down a Tory deal or the government fails to reach any deal at all we would press for a general election".
It marks the end of Labour's four-day conference in Liverpool, which has seen key players such as Shadow Chancellor John McDonnell, Shadow Foreign Secretary Emily Thornberry and Shadow Brexit Secretary Keir Starmer, give eye-catching speeches.
If you like this story, share it with a friend!
Subscribe to RT newsletter to get stories the mainstream media won't tell you.
Via RT. This piece was reprinted by RINF Alternative News with permission or license.