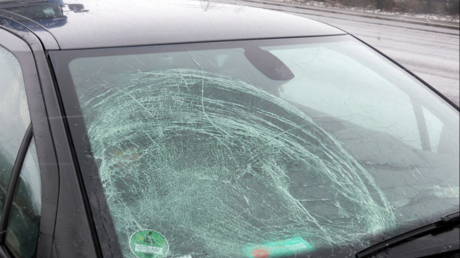 A daylight theft of a man's tools was seemingly foiled when the would-be robber clumsily crashed into a tree trying to escape. The victim then extracted his own measure of revenge when he caught the thief.
Filmed by a bystander from the window of a house in Oldham, Greater Manchester, the footage reveals how the man who allegedly stole the items didn't fancy his chances in a confrontation when the victim encountered him on the street.
READ MORE: Police hunt for thief identical to Ross from Friends… cue Twitter gifs
According to the Manchester Evening News, the alleged thief was caught red-handed as he tried to pilfer work tools from another man's van. However, the scheme didn't go to plan as the eyewitness video shows. Instead of a haul of stolen goods, the robber ends up having to drive off with some considerable damage to his own vehicle.
In the two minute clip, filmed by Connor Tyrer, one man can be seen screaming expletives at the alleged thief as he holds an orange shovel.
The apparent burglar is then spotted trying to approach his damaged black VW Golf, which appears to have struck a tree and had its windows smashed.
READ MORE: Smash and stab: Samurai sword-wielding jewel thieves attack bystander during London heist (VIDEO)
Taking to social media, the eyewitness explained how the thief had come into some bad karma by smashing into a tree outside his home. His car was also seemingly partly smashed up by the angry victim.
"Guy's just tried robbing someone's work tools crashed outside mine," he said. "[The victim] smashed the guys [sic] car up then got his stuff and got off. Well done lad," he added.
If you like this story, share it with a friend!
Via RT. This piece was reprinted by RINF Alternative News with permission or license.