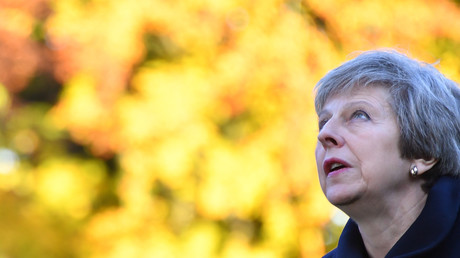 Theresa May is fast becoming the great unifying prime minister of our era; her handling of Brexit has managed to unite almost the entire British political establishment against her. It's an impressive achievement.
As all sides of Parliament turned against May in the debate on the withdrawal deal she has brought back from Brussels, Tory MP Mark Francois succinctly summed up how the prime minister has become a rallying point for all sides: "The Labour party have made plain today that they will vote against this deal, the SNP will vote against it, the Liberals will vote against it, the DUP will vote against it, our key ally in this place will vote against it, over 80 Tory backbenchers, well it's 84 now and it's going up by the hour, will vote against it."
READ MORE: 7 resignations and counting: May's government 'falling apart before our eyes' over Brexit deal
It's taken two years of negotiations for May to reach a point where she can stand up in Parliament and be faced with as much hostility from her own benches as from the opposition. She won't push for a new vote, she won't back a hard Brexit, and she can't call a general election. On the plus side, she may have an opportunity for a long holiday in the near future, because the coup is happening right now.
I'm really enjoying the season finale of The UK.

— Damian Sullivan (@DamianOS3) November 15, 2018
From the outside, the Brexit chaos is highly confusing, but that's nothing compared to how it looks from the inside. May's regular trips to Brussels haven't been about making offers to the EU, as much as they've been about seeking ultimatums from Europe's leaders that she can use to try and placate her own party.  Never forget this whole situation is at heart simply an internal Tory struggle.
Well, that real negotiation with her own party looks to have failed as ministers resign one by one and a vote of no confidence looms, which means she's been more successful at finding compromise with the enemy EU negotiators than she has with her own people.
No one is backing down, and compromise is rarer than hen's teeth in British politics at the moment, with all the various groups absolutely wedded to their own version of how to potentially undermine Britain.
The hardline Eurosceptics of the Tory party, the Rees-Mogg rebels in the European Research Group (one of the more misleadingly benign group names you'll find), have no fear of Britain dropping out of the EU in a hard Brexit causing potential economic chaos. It helps that they tend to be the kind of people that do very well out of turmoil in the financial markets. Worst case scenario, the value of their four houses falls a few percent. They're currently sharpening their knives Brutus style, because they'll be fine whatever.
Rees-Mogg's lynch mob will definitely get Britain out of the EU – you can rely on them for that – only the anesthetic will be limited and the bleeding potentially very bad indeed. They can always say 'the people made us do it'.
At the other end of the scale there are the Remainers, the delusionists who just refuse to accept what is happening. Their funk of denial is just as destructive because they're doing nothing to find a way of getting out of the EU without disaster.
Instead, they're getting behind a de-facto rerun of the referendum, or what they're calling the People's Vote, which is a rather Orwellian title considering it's aimed at overturning what 'the people' have already voted for. There is the obvious risk that 'the people' vote in exactly the same way as they did last time, which is hardly going to ease the situation.
However, a second vote puts at stake something much bigger. If the so-called cradle of parliamentary democracy, home of the Magna Carta, decides to ignore the result of a referendum because certain key figures decide that the electorate voted for the wrong outcome, then where does that end?
If there's a political center ground pushing for a Brexit that doesn't want to risk either democracy or chaos, it's hard to find.
You can't help but be impressed by the size of the mess Britain has got itself into – must be that famous sense of humor.
By Simon Rite

Simon Rite is a writer based in London for RT, in charge of several projects including the political satire group #ICYMI. Follow him on Twitter  @SiWrites 
The statements, views and opinions expressed in this column are solely those of the author and do not necessarily represent those of RT.
Via RT. This piece was reprinted by RINF Alternative News with permission or license.