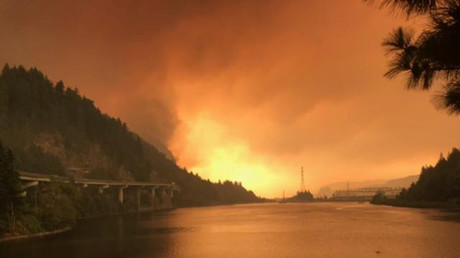 A teenager has been ordered to pay $36,618,330 in restitution for the damage he caused by starting a wildfire in Oregon last year.
County Circuit Judge John A. Olson ordered the unnamed 15-year-old to pay the fine on Monday for throwing fireworks into Eagle Creek Canyon, sparking an almighty inferno that spread across the forest.
The monumental payment means that the teen would have to pay over $100,000 a month for the next 30 years to pay back the balance. Judge Olson recognized that the teen will likely not be able to fulfill the payment, and so he ordered the local juvenile department to develop a financial plan for him, The Oregonian reports.
Olson said that if the teen finishes their five-year probation and exhibits good behavior, they may stop payments after 10 years. The money will go toward the Eagle Creek fire victims, along with the US Forest Service and the Oregon Department of Transportation.
The teen's lawyer, Jack Morris, called the judgment "absurd" and "absolutely silly" and asked Olson to deliver a more "reasonable and rational" ruling with a more manageable dollar figure.
"It's difficult to imagine anything more pointless than ordering an adolescent to pay 36 million in restitution," Morris told The Oregonian.
However, Olson would not budge: "having reviewed the arguments presented by the parties, the court is persuaded that an award of more than $36 million in restitution does not violate either the state or federal constitution," the judge wrote.
The teen was also ordered to carry out nearly 2,000 hours of community service with the federal forest service and write letters of apology to the 152 people who were trapped on Eagle Creek by the wildfire.
Like this story? Share it with a friend!
Via RT. This piece was reprinted by RINF Alternative News with permission or license.