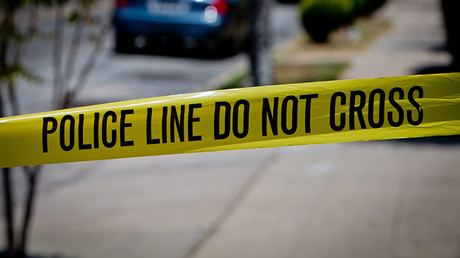 A 14-year-old hispanic male has been taken into custody after police responded to a reported active shooter at a high school in Palmdale, California.
Los Angeles County Sheriff's Department deputies rushed to the scene just after 7am Friday, accompanied by agents from the Bureau of Alcohol, Tobacco and Firearms.
One person, described as a 14-year-old hispanic male, has been arrested, and the Sheriff's Department has declared the school clear. One victim, another 14-year-old man, suffered a gunshot wound in the arm, but was able to drive himself to hospital, CBS Los Angeles reported. His condition is described as stable.
Both suspect and victim are students at Highland High School. Police described the events as as 
Update Regarding Highland High School in Palmdale:
So far, no other threats ID'd.
Appears to be isolated shooting.
Victim is 14 y/o male & student of Highland High School.
Subject is 14 y/o male & student of Highland High School, detained off campus.
Rifle recovered off campus

— LA County Sheriff's (@LASDHQ) May 11, 2018
Highland High School is located about one hour north of Los Angeles. Students there took to Twitter to warn others about the reported shooter.
THERES A KID AT HIGHLAND WITH A GUN DONT COME TO HIGHLAND HIGH SCHOOL

— Mr. Gomez (@Isaac_Gomez59) May 11, 2018
The school's principal tweeted a warning to students to "stay clear of campus," and said that law enforcement was assessing the situation.
Early and unconfirmed reports from inside the school seem to indicate that the suspect was wearing a black hoodie and opened fire near the school library. Police have recovered a rifle from the scene.
Granddaughter is on phone with me and she was sent home from Highland High School just now. Swat team and police at HHS. Apparently student with rifle. Haven't been able to confirm yet. Anyone know?

— Essence Real Estate (@brokerbarb57) May 11, 2018
Due to his age, it is unclear how the suspect managed to get a weapon. In addition, gun laws in California are among the strictest in the US.
Minutes after reports came in from Highland, Deputies were also called to nearby Manzanita Elementary School, just seven miles away, after a parent reported multiple shots fired. After investigating the call, the LA County Sheriff's Department found no evidence of a shooting and gave the all clear at Manzanita Elementary.
Manzanita Elementary school had a scheduled day of active shooter training several days ago, according to local press, and another training day had been scheduled "in the near future." It is unclear whether the training and the reported incident were connected.
Via RT. This piece was reprinted by RINF Alternative News with permission or license.