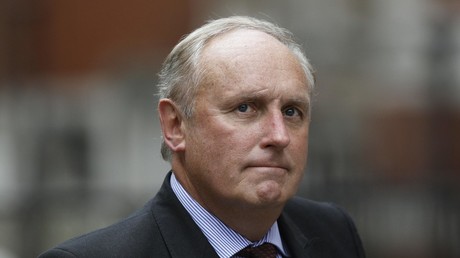 Daily Mail editor Paul Dacre, who has consistently been dogged by controversy and accusations of racism and sexism, has confirmed he will step down before he turns 70 in November. Twitter, responding to the news, nearly exploded.
The news broke on Thursday that Dacre, who is stepping down after more than a quarter of a century in the editorial role, will become chairman of Associated Newspapers. Associated Newspapers also owns the Mail on Sunday, Metro, and the Mail Online, the world's most popular English language newspaper website.
Dacre's career was dogged with controversy. He appeared three times in the Leveson inquiry, after actor Hugh Grant accused a Daily Mail journalist of hacking his phone. He also had a reputation as an editorial despot. Ex-Guardian journalist Nick Davies wrote in his book Flat Earth News that Dacre's staff call his morning editorial meetings the "Vagina Monologues" because of his habit of calling everybody a "c**t."
Journalist and sister to the foreign secretary Rachel Johnson once wrote in The Spectator in 2001 that photographs taken of women for the features pages of the Mail must comply with the 'Dacre Rules.' She quoted the rules were "No jeans. No black [clothes]. No trousers. Paul Dacre only wants women to appear wearing dresses. If skirts, only to the knee."
The news of Dacre's resignation was broadly met with digital cheers and hallelujahs on social media. LBC presenter James O'Brien said "Good riddance to an amoral sociopath," while Guardian columnist Aditya Chakrabortty slammed Dacre's life work in a mere 81 characters.
Huck magazine news editor Michael Segalov queried how he could apply for the role. Some suggested he sell his soul, others had the more satanic suggestion of sacrificing children on the Tory altar. Or even that the departure should not be taken at face value, as he is pulling a 'Ukrainian journalist.'
Others were more political in their reaction to the retirement of the known Eurosceptic editor of the Mail. Lord Andrew Adonis rejoiced in Dacre's retirement, stating that his stepping down is a positive sign for Remainers. British writer Jonathan Fryer linked Dacre's resignation as "rats leaving the sinking ship as Brexit starts to founder." While Tony Blair's former media strategist, Alastair Campbell, called the man a "Malign influence on media culture."
Not all the feedback was negative – author and journalist Harriet Sergeant praised Dacre for giving her work a chance – even if it wasn't a typical "Daily Mail type" story. "He's a great editor and I will miss him," she said.
Think your friends would be interested? Share this story!
Via RT. This piece was reprinted by RINF Alternative News with permission or license.