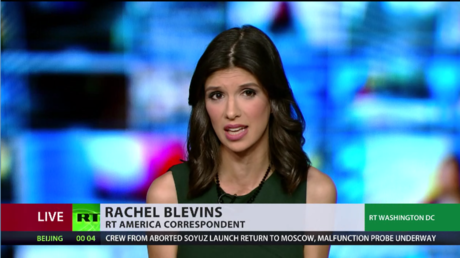 RT America's Rachel Blevins has had her public account axed by Facebook amid the social media giant's recent crackdown on alternative news sources. Blevins says she only posted her journalistic work and is baffled by the move.
Rachel says she had to work hard for four years to amass a following of nearly 70,000 people. She has no clue as to what might have prompted Facebook censors to see red and banish her from the site in the 'inauthentic behavior' crackdown, as she only posted her own work, articles and video reports.
READ MORE: 'Like a death blow': Banned alternative media speak to RT after mass Facebook purge
Rachel says she is not a spammer, as she has always used her own personal account to post stories. She states that she has never spread any controversial material – her reports simply look at angles the mainstream media ignores.
Facebook has turned its back on content creators, and is now silencing instead of encouraging them, she says.
"When I first started out, Facebook was the main place where a lot of journalists and media personalities went to build a following, and it was the place where they could really connect with their followers. It seems that especially in the last year, Facebook has changed course and is stifling a lot of these content creators that it helped out in the first place."
Like this story? Share it with a friend!
Via RT. This piece was reprinted by RINF Alternative News with permission or license.