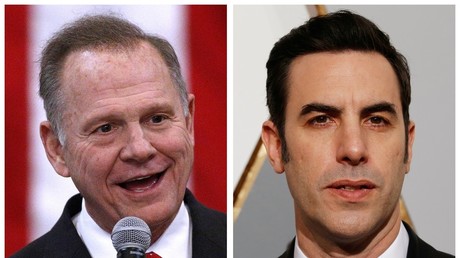 Former Senate candidate Roy Moore is suing Sacha Baron Cohen, after the Borat creator duped the politician into appearing in a comedy sketch involving a fake "pedophile detector" supposedly developed by Israeli military chiefs.
Moore, a former Alabama Supreme Court judge, has also included CBS and Showtime in the $95 million suit over his appearance on the American network's 'Who Is America?' program.
As part of episode three of the satirical program, Cohen interviewed the Republican whilst disguised as an Israeli defense specialist. During the brief interview Moore was introduced to an Israeli gadget that could supposedly detect sex offenders and pedophiles.
READ MORE: Borat does America: Comedian teases new show with Dick Cheney signing 'waterboarding kit'
Trialing the fake innovation, Cohen swept the device over Moore a number of times with the bogus detector eliciting a beep each time. It came after Cohen's character stated that "sweating like a rapist is actually based on science".
During his failed Senate bid last year Moore was dogged by accusations that he pursued sexual relationships with girls as young 14 when he was in his 30s. He repeatedly denied the accusations.
Calling the interview to a close, Moore said he has been married for 33 years. "Certainly I'm not a pedophile, okay… Maybe Israeli technology hasn't developed properly," the Republican added. At the time Cohen stated for the cameras that the device must be faulty, adding: "I'm not saying you're a sex offender."
The multiple million dollar suit claims Moore was lured to Washington DC under the pretence that he was to receive an Israeli award, reported Rolling Stone.
"This false and fraudulent portrayal and mocking of Judge Moore as a sex offender, on national and international television, which was widely broadcast in this district on national television and worldwide, has severely harmed Judge Moore's reputation and caused him, Mrs. Moore, and his entire family severe emotional distress, as well as caused and will cause Plaintiffs financial damage," the lawsuit states.
READ MORE: '3yos can't protect themselves from guns with pencils': US lawmakers tell Sacha BaronCohen
Sacha Baron Cohen or his agent have yet to respond to the news. In a statement to Variety, Showtime, owned by CBS, said it had not received copies of a filing and could not comment.
British comedian Cohen, whose characters include Ali G, Borat, and Bruno, has made a career out of duping celebrity names and politicians into tricky interviews. So far on his new  Showtime series Cohen has lampooned Bernie Sanders, Sarah Palin, former US vice president Dick Cheney and former Arizona Sheriff Joe Arpaio.
If you like this story, share it with a friend!
Via RT. This piece was reprinted by RINF Alternative News with permission or license.