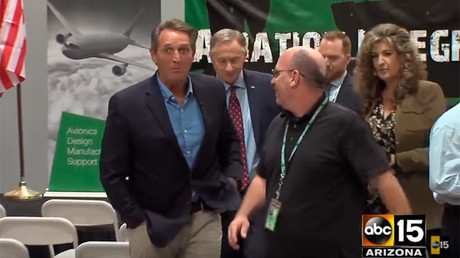 Arizona Senator Jeff Flake may invite the ire of President Donald Trump after he was caught in a hot mic moment, saying the Republican party is "toast" as it's become the party of Trump and Roy Moore.
Flake was speaking to Republican Mayor of Mesa, Arizona John Giles, after a tax reform event on Friday night when KNXV captured their conversation, thanks to Flake's lapel microphone which was still on.
KNXV's camera started rolling when Flake was mid-sentence. He can be heard telling Giles: "…become the party of Roy Moore and Donald Trump, we are toast," KNXV reports. 
Flake's office later told the network he was saying, "If we become the party…" before the cameras started rolling, but this can't be verified.
Flake tweeted about the hot mic moment on Saturday, seemingly unfazed about what he said. "No news here. I've been saying this to anyone who will listen," Flake's tweet reads.
Flake has been an outspoken critic of the president. In October, he announced he would not seek re-election because of "the current Republican climate," and referred to "reckless outrageous and undignified behavior."
Giles was also caught appearing to call Trump an idiot. "I am not throwing smoke at you, but you are the guy — just for fun, think about how much fun it would be — just to be the foil, you know, and point out what an idiot this guy is," Giles said, apparently referring to Trump.
Giles' office released a statement when contacted by the network, which only addressed the Moore controversy. "As a life-long conservative Republican, I am troubled when candidates like Roy Moore send the wrong message about my party's ethics and policies," he said. "We need more people like Jeff Flake in the US Senate, not Roy Moore."
Moore is running for a seat in the US Senate, and has been accused of preying on multiple teenagers, so many that he was reportedly banned from a shopping mall when he was in his 30s.
His alleged harassment and assault has caused a divide among Republicans, with some calling for him to drop out of the race. Others, including the president, have remained silent on Moore, who denies the allegations.
Via RT. This piece was reprinted by RINF Alternative News with permission or license.