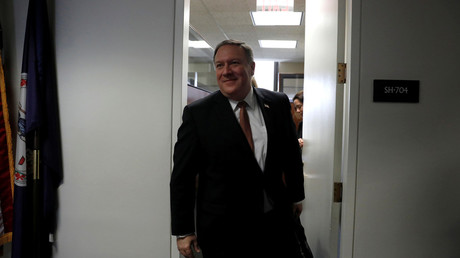 CIA Director Mike Pompeo's nomination for secretary of state has barely cleared the Senate Foreign Committee. No Democrat voted in favor of the nominee, and the vote almost failed due to one Republican's absence.
Initially, ten of the Republicans present voted in favor of Pompeo, and ten of the Democrats present voted against. Senator Johnny Isakson (R-Georgia) voted by proxy, since he was giving a eulogy at a funeral and was not expected back in Washington until Monday evening. The committee's rules require a majority of those present to be in favor, meaning Pompeo's nomination was being held up.
Ranking member Sen. Bob Menendez (D-New Jersey) would not agree to a voice vote, saying he did not want to create a precedent. However Sen. Chris Coons (D-Delaware) agreed to vote present, saying that Isakson's absence was "not a fact pattern we expected."
Having received assurances from President Trump and Director Pompeo that he agrees with the President on these important issues, I have decided to support his nomination to be our next Secretary of State.

— Senator Rand Paul (@RandPaul) April 23, 2018
Sen. Rand Paul (R-Kentucky), who originally said he would oppose Pompeo's nomination on grounds that the former congressman from Kansas favored regime change as a policy, changed his mind on Monday after conversations with Pompeo and President Donald Trump.
"I want Trump to be Trump," rather than be surrounded by advisers who try to change the president's mind, Paul told the committee.
Democrats reiterated their opposition to Pompeo, based mainly on his political positions. Sen. Jeff Merkley (D-Oregon) said that Pompeo's links to the fossil fuel industry disqualify him because of how important it was to fight climate change, and cited Pompeo's "disregard" for Muslim and LGBTQ Americans as making him unsuitable for diplomacy.
"I don't want to vote for people who are anti-diplomatic to be the nation's chief diplomat," said Sen. Tim Kaine (D-Virginia), noting that Pompeo was a good fit for the CIA, which he's run since January 2017.
Like this story? Share it with a friend!
Via RT. This piece was reprinted by RINF Alternative News with permission or license.