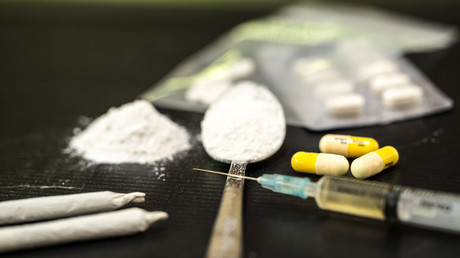 Cocaine, marijuana, MDMA – you name it, and one suspected Wisconsin drug dealer could have a fist-sized bundle of it packed away somewhere discreet.
READ MORE: Injured woman begs people not to call ambulance because she can't afford it
When police searched a car driven by Jaral McCollum and his girlfriend Desiree Webster in Shawano in the north of the state on June 25, they were acting on a tip that the pair were transporting drugs. After finding little on them, police took the pair into custody before conducting a strip search on Webster. A corrections officer then told officers she believed the man's 20-year-old partner was hiding something in her vaginal cavity.
She was later taken to a nearby medical center, where police say a CT scan revealed a bag in her pelvic area. Once removed, the 81-gram package was allegedly found to contain 36g of cocaine, 14g of methamphetamine, and 28g of synthetic marijuana, marijuana, and MDMA, according to the Shawano Leader newspaper.
"It's very common to actually see these containers or transport devices rupture," Doctor Ryan Murphy, an emergency medicine physician, told broadcaster WBAY. "If she were to overdose on that amount, that would be a toxic dose and she would likely die from that type of an exposure."
READ MORE: 'Racial profiling': Man fired after calling police on black neighbor at pool (VIDEO)
McCollum and Webster have now been charged with multiple counts of possession with intent to deliver. Webster was also hit with a felony charge after breaching her bail. Police claim Webster and McCollum would make up to three trips a week from Shawano to Milwaukee to buy and sell the drugs. According to court documents seen by the Smoking Gun, the tipster told police that Webster would often hide the drugs "in her person."
Via RT. This piece was reprinted by RINF Alternative News with permission or license.