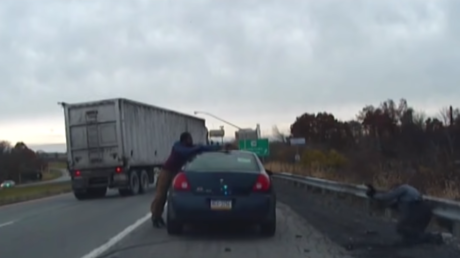 Newly released police dashcam footage shows a brutal, blockbuster-like shootout between a driver and two officers during a routine traffic stop in Pennsylvania that escalated very quickly.
Northampton County First Deputy District Attorney, Terence Houck, released the footage on Thursday to demonstrate the risk state troopers face in their line of duty. Houck said he received permission to release the footage from the family of Geneseo Corporal Seth Kelly, who nearly died in the incident.
The shocking dashboard footage shows trooper Ryan Seiple attempt to arrest Daniel Clary, 22, after he fails a field sobriety test on Route 33 in Plainfield Township, Northampton County, in November 2017.
When Clary resists arrest, the altercation turns physical and both Seiple and Kelly wrestle with the driver to subdue him in a tussle that at one point brings the men onto the busy highway.
READ MORE: Multiple fatalities incl police officers in Canada shooting, suspect arrested
Despite both officers using their tasers on Clary, the driver somehow manages to break away from the pair, reach into his truck and pull out a firearm. Clary, can be seen opening fire on the two officers, shooting Kelly four times before speeding off in his vehicle.
When Kelly arrived at a local hospital he was considered clinically dead, according to Lehigh Valley Live. He spent a total of 25 days at the hospital, 12 of which were in a medically induced coma, and still doesn't remember the shootout.
The 45-minute footage was released after it was shown in the gunman's trial, which prosecutors say helped lead to his conviction on June 29 for multiple felonies including attempted murder. Clary is due to be sentenced on August 31.
Think your friends would be interested? Share this story!
Via RT. This piece was reprinted by RINF Alternative News with permission or license.