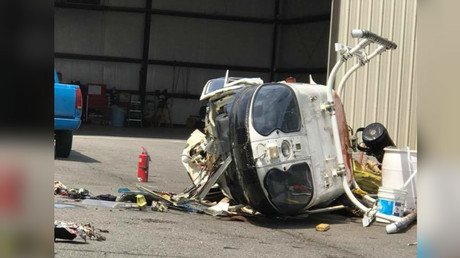 The pilot of a police helicopter has been seriously injured after his aircraft crashed during take-off in Arkansas. Dramatic video shows the chopper flipping on its side as its propeller smashes against the ground.
CCTV footage of the incident on August 16 has been released by the Little Rock Police Department. It reveals the circumstances of the chopper accident at a training base in Pulaski County.
According to a LRPD statement, the veteran officer was performing a maintenance check at the time of the crash. "He is a retired officer [and] senior pilot and is seriously injured," the statement read.
READ MORE: Policeman who slapped 14yo girl in face used 'reasonable force', insists chief (DEBATE)
Footage taken from the scene shows the helicopter attempting to rise from a take-off platform situated in a police parking lot. However, as the pilot attempts to fly the aircraft skywards it can be seen jostling from side to side before its rotor strikes the tarmac.
Two witnesses of the collision then rush towards the helicopter debris while emergency services are called. Local reports state that "straight-line winds" have been blamed for the incident.
Like this story? Share it with a friend!
Via RT. This piece was reprinted by RINF Alternative News with permission or license.