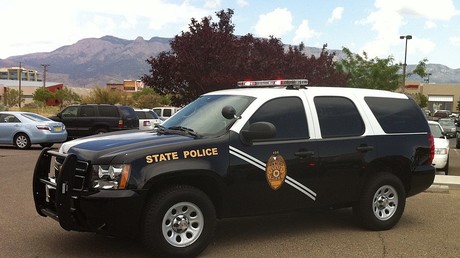 A viral video showing New Mexico State Police smashing a car window and pulling a man from the vehicle sparked outrage online. Officers have responded by releasing their own video of the incident.
Phillip Page and passenger Angela Fisher-Herrera were pulled over in Taso County in February for not wearing a seatbelt, the Albuquerque Journal reports. Page shared a video of the incident on Facebook last week, which shows an officer breaking his car window and pulling Page from the car.
Police have come out in defense of the officer's actions, saying Page was refusing to comply for 15 minutes before they broke the window. They say he wouldn't show his identification and was asked to roll down the window 20 times and was warned his window would be broken if he failed to comply.
"I'm standing by my officers," NMSP Chief Pete Kassetas said. "At some point after a certain amount of time of noncompliance, something has to happen."
"We didn't break the window and drag him out of the car because he didn't have a seat belt on. He got removed from the vehicle forcefully because he didn't comply," he said.
KRQE shared video supplied by the state police which shows 11 minutes of dashcam footage taken at the scene. It contradicts the short clip shared by the couple, in which Page tells the officers they never asked for his licence and registration. The police video shows an officer ask for it numerous times.
The pair were arrested for resisting or obstructing a police officer, concealing identity, and making a false 911 call along with the alleged seat belt violations.
Charges were dropped in March for lack of prosecution, the Santa Fe New Mexico reports. The case was filed in April. Page and Herrera-Fisher didn't go to court as they said they didn't receive letters advising them of the new date, and a bench warrant was issued for their arrest. Page moved to Oregon after the incident and told the Journal he and Fisher-Herrera are driving back to New Mexico and hope their case will be dismissed.
Like this story? Share it with a friend!
Via RT. This piece was reprinted by RINF Alternative News with permission or license.