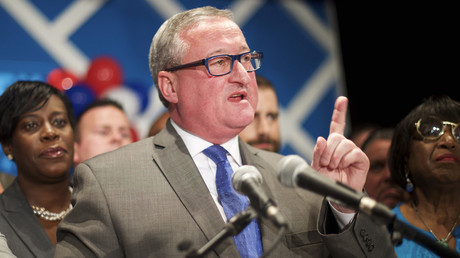 Philadelphia Mayor Jim Kenney has caused a Twitter storm for directing a blistering attack at US President Donald Trump after the White House called off a ceremony to honor Super Bowl champions the Philadelphia Eagles.
Lashing out at the president, Kenney, called Trump a "fragile egomaniac," who is "not a true patriot" and is "obsessed with crowd size." Kenney, a Democrat, said Trump was "afraid of the embarrassment of throwing a party to which no one wants to attend."
To add insult to injury, Kenney then went on CNN and told host Don Lemon that "there's no one more disrespectful to this country than the president of the United States, which is a sad thing to say, but it's true," and he claimed that every day of the Trump administration was a "new adventure in dysfunction."
"I'm glad he disinvited us, I'm glad he disinvited the team," Kenney continued. "The guy talks about being patriotic, he avoided the draft five times in Vietnam."
The drama followed Trump's abrupt decision to call off the White House ceremony on Tuesday, after a number of Philadelphia players tried to back out of the event due to Trump's repeated criticisms of NFL players who refused to stand for the national anthem.
Unsurprisingly, Kenney's comments set off a firestorm of both criticism and support on Twitter. Some defended the president, suggesting it is not up to the mayor of Philadelphia to decide what a patriot looks like, and criticized players who refuse to stand for the anthem.
Others lauded Kennedy and his "rightful" questioning of the president's patriotism.
Kenney's chief of staff, Jane Slusser, mocked Trump by posting side-by-side images that appeared to show there was a larger crowd at the celebrations for the Eagles' Super Bowl win than at Trump's inauguration — a topic which the president has been sensitive about in the past.
White House press secretary Sarah Huckabee Sanders accused the Eagles of engaging in a "political stunt" by first committing to bringing more than 80 team members to the White House, then trying to back out or reschedule the celebration for the date of Trump's summit with North Korean leader Kim Jong-un in Singapore.
"The Eagles are the ones that tried to change their commitment at the eleventh hour, and the president thinks the fans deserve better," Huckabee Sanders told the White House press corps.

In place of the ceremony, Trump decided to hold a 'Celebration of America' with the US Marine Corps band and the Army Chorus on Tuesday afternoon, tweeting that he would "proudly be playing the National Anthem."
If you like this story, share it with a friend!
Via RT. This piece was reprinted by RINF Alternative News with permission or license.