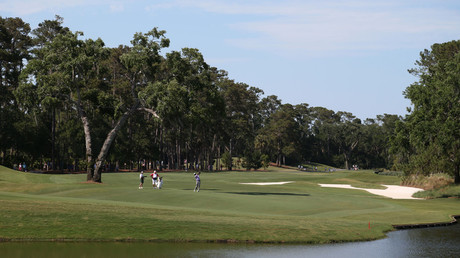 A Pennsylvania golf club has become embroiled in a race row after senior staff called the police to remove a group of five black women they accused of holding up play on the course.
Grandview Golf Club in York County apologized to club members Sandra Thompson and four friends after they were asked to leave the course by Steve Chronister, a former local politician whose son Jordan co-owns the club. Thompson alleges that Chronister warned them about what he claimed was their slow play.
READ MORE: Alaska Airlines chucked Down syndrome teen off flight after he vomited
Thompson, a member of the club as well as the head of a local chapter of the National Association for the Advancement of Colored People (NAACP), told the York Daily Record that there was no merit to the accusation as her group were keeping pace with the players in front. Thompson said her group skipped the third hole in order to avoid any further confrontation while three of the group abandoned play during a break at the ninth.
Footage captured by Thompson shows Jordan Chronister becoming involved in another row with two remaining women at the ninth tee. They were then were asked to leave, offered their membership money refunded and the police were called. Northern Rock County Regional Police responded to the call but left without charging anyone.
READ MORE: Protests shut down Philadelphia Starbucks over arrests of black men
The women say no-one else at the club was treated in the same way. "I felt we were discriminated against," golfer Myneca Ojo told the York Daily Record Sunday. "It was a horrific experience."
The club has since apologized to the women, saying the incident "does not reflect our organization's values or our commitment to delivering a welcoming environment" for members. "We are disappointed that this situation occurred and regret that our members were made to feel uncomfortable in any way," the club said in a statement posted to Facebook.
The incident follows protests earlier this month after two black men were accused of trespassing at the Starbucks outlet in Philadelphia. Video showing the arrest of the two men went viral after the store's manager called police because the pair were sitting in the store without ordering anything. The two had said they were waiting for a friend.
Think your friends would be interested? Share this story!
Via RT. This piece was reprinted by RINF Alternative News with permission or license.